Pinterest has over 400 million users every month. People go on the visual platform to find inspirational ideas and shop to make those fantasies into reality.
Users will often find on Pinterest whatever it is they are looking for. Be it a recipe of a microwave mug cake, or a peg photo for house décor, or a DIY of a balcony trellis, they'll find it there.
Pinterest has become a staple in people's online life. The visual search engine provides almost everything they need right in the palm of their hands, making it indispensable.
Because of the strong and steady audience on the platform, businesses and marketers are flocking to the site.
So, if you're still not on Pinterest or just new to the social networking site, we'll help you out in the most essential part of building a brand – figuring out how to grow Pinterest followers.
Why Should You Build a Following on Pinterest?
First and foremost, it's important to note that Pinterest is free to use. Creating and hosting your online brand on the platform will not cost you a thing.
Another cost-free aspect that you can take advantage of is getting free marketing.
As mentioned before, more than 400 million people go on Pinterest each month. That's a lot of traffic and possible conversions for your site.
The platform is host to both established brands and small businesses alike. But don't be afraid of being overshadowed by the big names.
In fact, 97% of the top searches on Pinterest are unbranded. Meaning, people are not on the site to look for brands.
They are there for inspiration and looks. More often, they try to recreate what they see using what they have on hand or what they can easily buy on the site.
And a lot of people do buy on site. An estimated 45% of users come from households with an income of $100k and up. These users are capable and willing to spend on the platform.
In summary, here are the reasons why it's important to grow your Pinterest followers:
Free online store/catalog and marketing for your brand.
Over 400 million users visit the site every month. Even just a percentage of that is a lot of traffic to your website or brand.
Pinterest is a small and independent business-friendly platform.
People are there to buy stuff.

Ways to Get More Followers on Pinterest
Just having a profile is not enough. You need to gain Pinterest followers to make your brand credible and profitable.
Here are some sure-fire tips to build a following on Pinterest:
The first important step to gain success on Pinterest is to create your business profile and choose a good profile picture. You can check out the link to read the step-by-step instructions on how to completely set up your business account for success.
A useful piece of advice, it's better to use an old Pinterest account. Just convert your existing personal account into a business profile. You can learn how in the link above.
The Pinterest algorithm gives more visibility to posts from older accounts. It somehow gives you more credibility and the right to be on the platform.
For your business to be more credible, you must create your own domain and claim it. Follow the instructions in the link to know how to link your website to your Pinterest account.
Once that is set up, when people visit your Pinterest profile, they can easily visit your main website to get to know more about your brand and products.
The better they get to know you, the more they will trust you and will be willing to buy your products.
Online browsing and shopping are all about convenience. To make your customer experience more convenient, add the Save/Pin it button and Follow button to your website.
This will increase the chances of people pinning your products (and possibly purchasing them) and your profile getting more followers.
Not all of the 400 million users on the site are the right audience for your brand. Choose and target the relevant users to make your marketing more efficient and effective.
The saying "you can't please everybody" is also applicable to the online scene. Your posts will be lost or even triggering to some people.
You just have to find the perfect audience for your brand. Identify the voice and humor that matches your audience's taste. This will make it easier for you to formulate posts in the future.
5. Check Out the Top Search Results on Pinterest
Go on Pinterest and click or tap the on-site search bar. A drop-down will appear with a list of topics under Popular on Pinterest.
Click on the topics relevant to your brand. Comment on the posts and/or repin the posts that have a lot of interactions.
Doing this increases your visibility so make sure to put interesting comments that will attract people to click on your profile.
Another sure-fire way to entice followers is by posting eye-catching and interesting content. Stunning photos and videos have been shown to attract clicks and follows from users in this visual platform.
Utilize the tips in the article link to help you make those perfect posts. You'll be gaining followers in no time.
7. Be Helpful
Most of the people on Pinterest are there to find something – inspiration, new project idea, motivation, tutorial, etc.
By being helpful, you are making your brand relevant and memorable to people.
Some ways to be helpful: make infographics, provide useful tips and everyday hacks, and share valuable news and information related to your brand's niche.
8. Use Hot Hashtags and Keywords
Try to type in some words related to your brand's niche in the Pinterest search bar. The words that are suggested in the dropdown as you type are the hot searches.
You may now use those keywords in your Pin title, Pin description, board title, and board description. This increases the chances of your Pins and boards popping up in people's searches.
You can also optimize your profile by including these keywords in your display name and bio.
Just make sure to keep it still looking classy and not spammy.
Rich Pins are posts with auto-updating features on Pinterest. It refreshes the data displayed depending on the info that's changed from your website.
When Rich Pins are clicked, the users will be redirected to your brand's e-commerce website where the product, article, recipe, or app is.
This enhances the user experience of your browsing customers. When people enjoy the experience, they are bound to return again and again.
10. Add Sections to Your Boards
Boards on Pinterest now have a feature called "section." A board can have different sections to make it easier for people to browse the collection.
For example, you may have a Winter Collection board. Within this board, you may create sections like cozy home décor, winter outfit ideas, and comfort foods for cold weather.
11. Choose the Best Time to Post
Knowing when to post is one of the best strategies of a marketer. The best time will give you the most visibility for your posts.
The best times to post are the busiest times as well. To make sure that you get your post out on time, make use of third-party apps that will help you in scheduling posts in advance.
There are a lot of free and easy-to-use third-party apps out there. Just choose one that fits your needs.
12. Talk to Your Audience
Building a brand is a lot about building people's trust.
When creating a post, it is best to use a tone that addresses your audience directly. This makes your brand sound more like a person. And a person is someone people can trust.
Talk to your audience by using the pronoun "you" and being sympathetic in your posts, like knowing the stress of a busy work week and the hassles of the holiday rush.
Just by being sincere and helpful, your customers will appreciate you more.
Another way to gain more visibility and probably followers is to join popular group boards. Learn how to look up popular boards in the article link.
These boards have already done the work of garnering a large audience. The only thing you have to think about is creating quality Pins that you can share on the group board to get noticed.
Good Pins will attract and interest more users to your brand. So, make sure you put a lot of thought and effort into every post.
14. Ride the Holiday Rush
The number of users on Pinterest increases as the holidays grow nearer. People are going online to get decorations, gift ideas, and recipes for the upcoming special season.
Get more visibility by riding the holiday rush.
Use the relevant keywords and hashtags of the season in your Pin titles and descriptions.
Comment on popular posts with those keywords.
15. Host a Contest on Pinterest
Another ploy that brands use to gain followers is hosting a contest on Pinterest.
The mechanics would usually state that users must follow your brand's profile and repin your contest post to be included as an entry in the contest.
Aside from the follows that you will gain, your repinned post will get so much traction and views. It's basically, free marketing for you done by people.
Follow the simple guidelines on the site to make sure you won't get shut down.
16. Utilize Marketing Tools
If you are ready to invest some cash to jumpstart your brand, there are marketing tools that are at your disposal.
The platform has its own built-in marketing and Pinterest Analytics tools. You can promote your Pins to get a larger audience reach. And you only need to pay for the mileage you get.
Another thing that you can use to get more followers is an expert Pinterest growth service. You just need to identify the target audience that you want to attract, and they will do all the work to get you those followers.
In your quest to find the right post that will appeal to your audience, you might have accumulated a number of Pins on your profile. Those Pins with minimal interactions are detrimental to you.
The Pinterest algorithm will compute the total posts you have and the impressions that you get. The more poor-performing posts you have, the lower your stats will become. And the lower your stats, the less visible you become.
To increase your popularity in the algorithm, delete the underperforming Pins to boost your numbers. As they say, "quality over quantity" is key here.
18. Be Consistent
One of the things about social media is that it's fleeting. What is popular right now might not be popular the next day.
To be relevant all the time, you have to be consistent with your content. Posting regularly will bump you up in the algorithm and get you more visibility.
When people like your posts, they also look forward to your next one. So, make sure to constantly provide them with engaging content to keep them hooked and satisfied. This also gives them original content that they can repin, getting your Pins more exposure and online traction.
In Summary
Pinterest is such a great platform to build your brand. There are tons of ways to get more followers and possible conversions without having to spend a single dime.
So, if you're just starting out or working on a tight budget, getting started on Pinterest is the best choice to grow your brand presence and followers.
Set up a business profile today!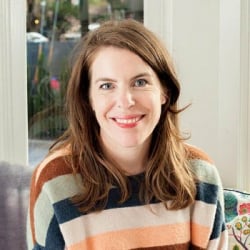 Latest posts by Maddie Schultz
(see all)