Imagine building a powerful business just by sharing photos that you love on Pinterest! This social media platform is so straightforward to use; all you need is a business account and the will to start creating content relevant to your niche. The growth possibilities are endless, meaning that Pinterest can increase your following, boost your website traffic, and increase your sales. All that's left is for you to learn how to grow pinterest followers. 
This is the best time to start investing in your strategy! Go over the benefits and tips below to find out how you can reach new levels of success.
Why Should You Use Pinterest to Attract Followers and Grow Your Brand?
Pinterest might not be the first social media platform on your mind when you decide to promote your business. If so, you're missing out on a huge opportunity. Since Pinterest has a staggering user base of 459 monthly users, it can be an excellent place for you to sell your products and services. Did you know that the number of people who visited Pinterest to shop grew by 50% in the first half of 2020?
If these two statistics didn't convince you, here are some of the reasons why you should consider growing your following and promoting your brand on this platform:
Your Pinterest page can help you reach a broad audience that has an interest in your niche;
It can significantly boost the traffic to your other social media platforms and website;
It can help you create a community that trusts you and finds your business authentic;
It's a free marketing tool;
Pinterest can increase your sales and boost your income;
It can bring more email subscribers.
Now that you know what this platform can actually do for you, let's go over the significant benefits of a large follower count.
Major Benefits of Having Pinterest Followers
Are you wondering what followers bring to the table on Pinterest? Here are a few benefits that will stimulate you to promote your brand on this platform:
Pinterest first shows your content to your followers. In other words, the more followers you have, the more people will see your pins.
This also means that more people are likely to visit your Pinterest page and pin your pins;
Thanks to these activities, your engagement will increase;
If you're trying to grow your business and offer services or products, your pins can feature links to those services and products. With a single click, your followers can get to your website and start shopping;
When your followers repin your pin, their followers will see it and possibly decide to follow you.
Pinterest is a platform that offers free promotion. You have the opportunity to present your products to hundreds, thousands, even millions of followers. When the follower number is higher, the chances are you'll have more potential customers.
11 Tips on How to Get More Pinterest Followers
Now let's get more into detail about what you should do to gain followers. Read these eleven tips, and you'll see how simple it is.
Target the Right Audience
Just like with most other social media platforms, researching and knowing your target audience is vital. You can't create content that is meant for everyone. Every business has a target audience, and your job is to know who you're trying to reach.
Several factors come into play when creating content for this platform. Start by researching your customers, what they like, what they need, what content do they want to see that's now missing, what would solve their problems. Work on creating pins that answer their questions, that are relevant, unique, and engaging.
Looking through your data can help you figure out the demographics of your followers. Age, location, gender, best-performing pins are just a part of the metrics that can be very useful to your research. Another thing to think about when targeting an audience is keywords, but we'll talk more about that below.
Optimize Your Profile
You can't really expect to notice Pinterest growth if people are not sure what your profile offers. Before you learn how to gain Pinterest followers, you need to optimize your Pinterest profile.
Although this is such an easy, quick tip, people still forget to do it or underestimate the importance of the basics. Start by uploading a high-quality profile picture that will instantly associate people with your brand.
Next, optimize your name. You probably haven't even thought about including keywords in your profile name, but that can help potential customers find you easily. The name should include the name of your business plus one to three relevant keywords.
Try to have the same name for all of your social media accounts. People will find it much easier to follow you everywhere if your handle is the same. If not, opt for something very similar.
Don't forget about the description! It's another part of the profile that requires optimizing. It should describe what your business offers and what your potential followers can expect to see on your page. The description should include keywords as well.
Know Who to Follow
Your competitor's followers are your potential future followers. Use this tip to your advantage, and you might get lucky to earn new fans. You can't just expect people to start following you just because you post on this platform. You have to be active and engage constantly.
When you find an account that is in the same niche as you, check out their followers. You will need to follow them first and hope they like your content since they're focused on following similar accounts.
Find your competitors by entering keywords that are related to your business. If you make wooden furniture, use the search bar to find accounts with similar content. Now you know what to do! Go through their followers and start following them too.
Create Eye-Catching Pins
Your pins should be awesome! The more effort you put into creating the content, the more followers you'll gain. People use this social media platform to see great, inspirational images, easy-to-read text, and witty titles. You can't expect people to like what you post if they can't understand the text in the description or the text you added to the photo.
When it comes to the pin image, the size you should go for is 1000 x 1500 px and an aspect ratio of 2:3. These are the dimensions Pinterest recommends so that you can have the highest-quality photo. Always opt for images that are eye-catching and will instantly captivate the audience. A pro tip is to go for colorful photos; it's an unwritten rule that vibrant images are better at gaining you more re-pins and followers.
Don't forget to focus on original content that brings actual value. The font that you'll use should be easily readable and large enough. Overall, the pin should be different from what everyone else is posting but still fit your brand's style.
Feel free to get inspiration from other creators, but don't steal their work. A while ago, this platform removed its Pinterest Likes function. However, you can still like other pins, and when you do, they will be saved to a secret "Your Pinterest Likes" board. It's perfect for storing all your inspo.
Be Active and Engage on Pinterest
You need to engage with other Pinterest users if you want to be seen! Besides posting high-quality content and posting consistently, you need to comment and repin other people's pins. Don't be spammy! No one wants to see the same comment by the same person everywhere. When you comment on popular pins, thousands of people can notice you, visit your page, and potentially decide to follow.
Interact with your followers constantly by replying to their comments. That's a good idea because it can help you create a community and grow your brand.
Use the Right Keywords in Descriptions
Your content on Pinterest should be search engine optimized. Both keywords and hashtags are essential because they help users discover your pins. Pinterest SEO is a huge thing, and the best way to score high is by using the search bar.
Search for terms related to your business, but make sure that you're as specific as possible. When you type the word/s into the bar, a list of suggestions pops up. These are all potential keywords for your future pins because they are popular among users.
Hashtags Are Important
The description of your pins is just as important as the image. Hashtags can help you reach a broad audience; that's why they should be a part of your description. Once you finish including the keywords and describing the pin, enter the "#" symbol, and you can get suggestions on popular hashtags. These are the hashtags that people are searching for the most and are related to the most popular and relevant pins.
Use Group Boards
Did you know that these boards are a powerful Pinterest marketing tool? They can significantly increase the traffic to your blog posts, website, and other socials. You should focus on creating your group boards and invite other people to become your collaborators. Make sure to write a detailed description that features keywords and explain the members' guidelines.
The next step is to join other popular boards on this platform because their followers can also become yours.
Analyze and Manage Your Pins
Pinterest analytics will give you an insight into all the metrics you need to analyze your pins, including audience insights, video statistics, conversion insights, and even discover the biggest trends on the platform. Use this free tool to determine what performs best, the engagement, best boards, number of page visits, and more.
Get creative with the way you manage boards and pins. Play around with the layouts, rearrange them to create an aesthetically pleasing finish.
Revive Older Content
Posting new content consistently is essential if you want to get more Pinterest followers. Another tip to think about is reviving your older pins. This is perfect for the moments when you don't have the time to create new pins or simply lack inspiration.
We're talking about old content that performed well and brought you many repins, increased website traffic and shares. All you need to do is repin those pins to your boards or other group boards and wait for them to do their magic again. Another way to go is to create multiple pins related to the content.
Promote Using the Right Techniques and Services
Investing time in your Pinterest account will boost the number of your followers. Yet, there are numerous other metrics, techniques, tools, and apps that you can use to grow even more. There is so much you can do as a single creative person constantly working on new content.
Think of apps that will help you create even more captivating images, infographics, text and enrich your content. Once you have the best pins, promote them with the Create Ad function.
Don't forget to apply for Rich Pins. This is a free tool that will synchronize the information from your website to your pins. There are three types of Rich Pins: product pins, recipe pins, and article pins. This tool will help your followers and other visitors of your account shop the products and services hassle-free.
However, if you ever feel like you're stuck and want to gain more organic followers, professional service is the best way to go.
Here's How PinGrowth Can Help You Gain Organic Followers
Organic growth is so essential for social media platforms. That's exactly what we do at PinGrowth! This is not just a website where you'll buy followers that magically disappear after a few months.
We put in a lot of science in what we do so that the following that you'll gain is organic, made of people that like your content and engage often. After letting us know more about your target audience, we do our research and focus only on accounts specific to your niche and ones that appreciate the content.
The benefits of our Mother/Child method and AI technology are that we identify the demographics that are highly probable to love your page and purchase your products and services. We also get in touch with them, so we promise an instant spike in your growth, increased social media influence, one-on-one consulting, and a 24/7 support service.
Since all of your new followers will be organic, you have no reason to be afraid that you'll lose them. They will keep engaging and buying as long as you're posting quality content. Feel free to research the packages that we offer together with the numerous testimonials of happy customers.
Conclusion
Although there is no fast way to success, you should still focus on learning how to get more Pinterest followers. It can be very beneficial to your business, more and more people will notice you, and your sales will significantly increase.
Our top tips include focusing on eye-catching, engaging pins, becoming a part of group boards and creating yours, targeting the right audience, optimizing your profile, using tools to promote your business, re-use old content, use the right keywords and hashtags, and more.
If you feel overwhelmed by all this, but you still want to grow, don't hesitate to get in touch. We offer three free trial days for all our packages.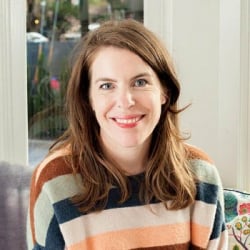 Latest posts by Maddie Schultz
(see all)