Getting your website claimed on Pinterest means that you have made your website URL the unique portal that will bring Pinterest users straight to your website. Learning how to claim website on Pinterest will be crucial in driving traffic from your Pinterest business account page to your website. Among every social media platform out there, Pinterest remains the undisputed tool that social media managers use for making Pinterest users visit a blog or website. Claim your website on Pinterest and optimize your Pinterest marketing to make efforts twice as effective in attracting visitors to come to your blog or website.
Free Benefits You Get When You Claim your Website on Pinterest
Website Analytics – You get to see how pins on your site or blog are performing.
Featured Logo – Your website's profile picture icon will be made visible on all pins on your website. Even shared pins will carry your profile picture icon.
Rich Pins – You will have access to enabling Pinterest Rich Pins on your posts. These Pinterest Rich Pins make it easier for your target audience to find your website on the internet.
Reciprocity of Pinterest followers and website visitors – Pinterest users will get to access your website URL from your Pinterest profile page.
Early Access to Tools – Access to new tools and features Pinterest has just rolled out.
Step by Step: How do I claim my website on Pinterest?
To claim your website on Pinterest, you'll need to: convert your Pinterest account to a Pinterest Business account if it isn't already. Claiming websites is an option only available to Pinterest Business Accounts. 
Claiming Your Website through an SEO Plugin on a WordPress Website
If you are on WordPress, just download the Yoast SEO Plugin and follow these steps:
1. Navigate to your Pinterest profile and go to your Pinterest Settings page below your profile picture.
2. Scroll down and locate your Claim Website Section.
3. There will be a textbox that will need your website URL.
4. Enter your website URL in the text box provided and then click Claim Website.
5. Pinterest will give you the choice of "Add HTML Tag" or "Upload HTML File." Choose the "Add HTML File" option.
6. A new prompt will appear. Copy the whole domain meta tag and head over to your website.
7. Open your Yoast SEO plugin. This will lead you to the accounts page and select the Pinterest Tab.
8. At the Pinterest tab, there will be another text box that says "Pinterest Confirmation" before it.
9. Paste the domain meta tag you just copied from Pinterest.
10. Click: "Save Changes."
11. A Prompt comes out after clicking to save changes asking you to click "Finish."
12. At this point, Pinterest will have you wait for up to 24 hours before your website is finally claimed on Pinterest. It usually only takes about an hour for Pinterest to confirm through e-mail that you have claimed your website.
13. Click "Save Settings"
14. That's it! You have confirmed your website and you have unlocked access to the data you need for your website.
Useful Pinterest Tools
Canva
A graphics processing app that enables you to make your graphics and pin templates. Canva has its most basic features available for forever free use.
Pingrowth
A Pinterest Growth Service that plays within Pinterest's rulebook of user agreements and can organically grow your Pinterest following by the thousands each month.
Tailwind
Tailwind automates scheduled posting of pins, joining tribes to source more content. Also gets to share content with other users.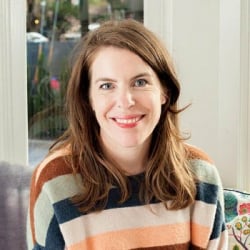 Latest posts by Maddie Schultz
(see all)