At first glance, Pinterest seems to be the most straightforward platform to use for growth. You choose a picture, you upload it, and wait for people to repin it. But it's not that simple. Creating quality content takes time and knowledge. If you want to learn how to create a Pin and make it a good one, keep reading.
Pinterest traffic is an important metric because more traffic means more profile visits, more repins, more followers, and more new potential clients. Yes, this platform is so much fun to use, but the ultimate goal of your business is to reach more people and generate more sales. All of this starts with a successful Pin.
And, you won't even believe how much work goes into delivering a great Pin. Thankfully, today numerous tools can help with the images. You need to make sure that you optimize your content and promote it to reach broad audiences. Below you'll find all you need to make the best Pins that will boost your account and business.
Anatomy Of How to Create a Pin on Pinterest
Once you know the anatomy of a perfectly optimized Pinterest Pin, you'll be able to upgrade your knowledge and get more Pinterest followers with great content. These are the essential steps that you need to follow:
1. Choose The Preferred Image Size
According to Pinterest, the ideal aspect ratio on an excellent Pin is 2:3. If the main source says that you should opt for that ratio, that's what you should do. The popularity of this social media platform revolves around nice images, so to grow your Pinterest account, you need to stick to the preferred format.
2. High-Quality Image
Who wants to see blurry images, right? Pinterest is all about visuals, so uploading a bad image won't do you any good. The photos that you'll choose should be high-quality and not pixelated. Opt for high-resolution images that are 1000 pixels x 1500 pixels.
3. Upload The Photo
Open your Pinterest Profile, then tap on the plus located in the top right corner. Select the Create Pin option and choose an image from your computer.
4. Add Title
Once you've uploaded the image you're going to pin, you need to add a title. It should give information about what's in the photo, but make sure that you use keywords. These keywords will help your target audience discover your Pin. If the users can't tell what the picture is about, you should add a title that gives more details about it.
5. Add Description
Next, add a Pin description. Just like the title, the description has to be optimized. You can write up to 500 letters, but the readers will only see the initial 50 underneath the picture. Pinterest is a search engine, so add important keywords to make the description SEO-friendly.
6. Add To Board And Save
The final step of Pinterest pinning is to add the pin to the board. Click on Choose A Board and choose one of the existing boards. You can also create a new one. Once you've selected the board, all you need to do is click Save.
As you can see, Pinterest users can create Pins in a matter of seconds. These steps are crucial. Now let's find out what more you can do to deliver even more engaging content that will attract more followers.
8 Tips on How To Post On Pinterest
1. Call To Action
Call to action strategies work on all social platforms, including Pinterest. If you want to grow your Pinterest page, encourage people to repin, open links, visit your store, and buy. Add a short CTA to the Pin description, and you'll see how great it works. You can also add it as text on your image, but don't make it too big. People need to be reminded to take action, and this is an entirely free tool that can work wonders for you. CTAs are great for any business account that is trying to score more sales.
2. Use Tools And Text For Better Pins
There are so many tools that you can use to boost the appearance of your content. As we mentioned, this social network is all about eye-catching, high-quality images that attract attention. You can use various tools and templates to add text to your photos.
Images without text look so empty and aren't really on-brand for Pinterest. If you've been scrolling on this platform, you've probably noticed that most successful users add text to their Pin photos and use various cute colors and fonts. Text will make your Pins look more professional.
3. Create A Brand
You should build a recognizable aesthetic that will associate people with your brand. Branding is huge at the moment, so if your main goal is Pinterest growth, you need to employ this strategy. Create a logo, stick to the same palette color for the templates, text, photos.
4. Add Hashtags
Hashtags help make your content more visible and will sort your content into specific categories. Add hashtags in the description that further explain your photo or product. Think of hashtags as keywords because your content will pop up when other users search the hashtags that you included under your images.
If you want to sell on Pinterest, you need your content to be seen. People discover some of the most popular and trending topics by typing in words in the Pinterest search bar. You can use the search option to find trending words and use them as hashtags. Type in a word that is related to your content in the search bar, and Pinterest will also include a list of other popular associated terms and words you can use.
5. Join Group Boards
Group boards are a great way to be seen by thousands of people. These boards usually have numerous members, so you're reaching many people when sharing your content there. In one of these boards, multiple contributors can add Pins.
Make sure that the group board you'll join fits with your brand's purpose, strategy, and the type of products that you're trying to sell. You don't need to enter a DIY board if your business is about website design. These two are not related in any way or form. Find groups that have potential customers and enthusiasts in your field.
6. Use Rich Pins
Did you know that accounts that use Rich Pins perform better than accounts that don't use this feature? It actually makes sense. The goal of this feature is for potential buyers to get faster to their product. And, the best way to optimize a Pin is to give all the information that you can in the description.
When using Rich Pins, you'll be able to add the price and a direct link from your product to your website. This makes the shopping experience for customers much easier and faster. More than 90% of Pinterest users use this platform to explore new purchases. As you can see, this is a great market to invade; all you need is the right strategy and great Pins.
7. Know Your Audience
Spare some time to learn about your audience. You shouldn't ignore statistics and just post random things. Why spend time on a Pin when you don't exactly know if it brought traffic or whether it increased sales. You can find all this information in the analytics section on Pinterest.
Analytics is particularly important for businesses on Pinterest. You should know all about your target audience, what works well, what doesn't, which Pins are popular, what ages respond best, when is the best time to post, and so much more. Also, don't stick to the same routines all the time. Ensure to follow the analytics reports because trends on this platform can often change. Your goal is to be up-to-date with everything that's going on.
8. Use A Pinterest Growth Service
Signing up for a growth service might not be directly related to creating amazing Pins, but it is related to being seen. Specialized growth services such as Pingrowth will draw traffic to your account, and more people will notice your work. As your numbers grow organically, you'll be more stimulated to create engaging content and keep your Pinterest followers happy.
Conclusion
Creating amazing Pins should be the most essential part of your Pinterest marketing strategy. This platform sells, but you need to be invested in making quality content that is visually pleasing and SEO-friendly.
If you want your Pins to be more successful, you need to deliver high-quality images with high resolution. Don't forget to add text, description, and hashtags that are rich in keywords. Use tools to add text to your pictures and to make them even more interesting. Don't forget to include a CTA on the image or as a part of your description. Next, promote your content on group boards and talk to professionals who can help your Pinterest grow.
Once you start posting eye-catching and well-optimized Pins, you'll see a boost in traffic, more followers, repins, and more purchases.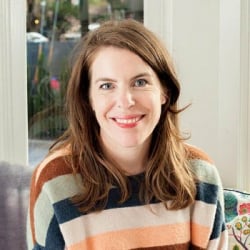 Latest posts by Maddie Schultz
(see all)