Pinterest is the leading social media platform for product purchases and lead conversions. Learn how to sell on Pinterest in this easy step-by-step guide.
Pinterest has over 450 million active users every month. Half of this figure is from the United States. And guess what? Half of the US users are on the platform to shop.
Pinterest users spend $50 or more per purchase. This is the highest spending among the entire social media network! Facebook may have more active monthly users; however, Pinterest wins when it comes to conversion.
Another good thing about Pinterest is that having an account is entirely free. No registration fee, no monthly fees, whatsoever. You don't need to have a huge capital to jumpstart your venture here.

So, if you're planning to start or just want to boost your business, being on Pinterest is surely the way to go. Read on to learn how to sell on Pinterest, then watch your business grow.

Getting Started
Before you go online on Pinterest, there are some things you need to set up. So, let's start with branding.
1. First up, if you're not confident with your brand, or you're still thinking about what items to sell, looking at Pinterest's keyword search is a good place to start.
It will encourage you to know that 97% of searches on the platform are unbranded. Yep, big brands don't dominate this scene. Small businesses and budding entrepreneurs are very much welcome here. So don't be scared to make an independent brand. Pinterest has a nurturing environment for the likes of you.
2. Next up is choosing what to sell. To give you an idea, the current trending searches on the platform are food, fashion, and home décor. Any product or service related to those is a sure-fire hit. Your products are likely to pop up in most searches, too, if you follow the fad. More exposure means more conversions.
3. After that, you need to have an eCommerce store. This is the place where you will host your catalog of products. Your customers will shop here, check out their cart, and pay with ease – all in the comfort of their homes.
Several hosting sites offer great services. Just choose one that fits your budget and needs.
Once you have an eCommerce store, you can now display your lovely product photos on Pinterest for the whole world to see.
Personal Account vs. Business Account
To access Pinterest content, you need to have an account on the site. It takes just 15 seconds to set one up. (We've tried it. Fifteen seconds, tops. It's legit.) It goes to show that Pinterest is a fairly easy-to-use platform. No need to be tech-savvy.
Currently, the platform offers two types: a personal and a business account. Check out the difference between them and get to know all the perks of having Pinterest for business owners.
· Personal Account
This account lets you browse what's on Pinterest.
You can save your favorite pins.
You can create boards, which is a compilation of pins.
You can purchase items on the platform.
· Business account
This account lets you do all the things a personal account can do and more.
You can connect your eCommerce store to your Pinterest account. This offers smooth redirection from one website to the other.
You get access to the Pinterest Business Hub which offers useful features for marketing and ads.
You can easily find messages and updates, and track post engagements right on your enhanced dashboard.
With all the valuable features that a business account has to offer, it's a no-brainer that you should sign up for one. The best part is, you get all these at no additional cost!
How to Set Up a Business Account
If you already have an existing personal account on Pinterest, you can use that to make your business account. The advantage of this is that you will retain your followers and the pins that you've already created.
You can switch your account from a personal to a business page by following these easy steps:
1. First, create a personal Pinterest account by using your Facebook or Google profile.
2. Using your personal account, convert it into a business account by clicking on the dropdown menu in the upper right corner.
3. Select Convert to business.
4. On the next page, you will see the benefits of switching to a business account. Click Convert account to confirm that you're okay with their Terms of Service and continue.
5. Set up your account info: business name, business type, and the link to your website.
You can also directly apply for a business account, just follow these instructions:
1. On your web browser, visit the Business signup page on Pinterest.
2. Provide your email, age, and set up a password.
3. Click Create account to continue.
4. Set up your account by typing in your business details.
5. You may now start creating your first pin.
Now that you have an account, it's time to set it up for success.

How to Sell Successfully on Pinterest
Everyone can create an account on Pinterest because it's free. However, not everyone can be a success in a short span of time. Here are tips on how to get to the top fast.
1. Create a great profile
Your profile shows your brand at a glance. People will decide if they should trust you and buy your products in the span of a few minutes.
Make it appealing and trustworthy by doing these steps:
Upload a high-resolution photo of your logo or brand name.
Write a good description of your brand, what you do, and what you are selling.
Incorporate trending keywords smoothly to make your profile optimized for searches.
Don't forget to connect your eCommerce store URL to drive sales to your main website.
2. Show your personality
Nothing gets people's trust faster than showing your personality. When people see and like your brand character, they will associate this fondness with your products. Here are some methods to give your brand a personal feel.
When users follow you or interact with your Pins, give them a follow back. Send a short thank you message to show how much you appreciate their gesture. People love to feel that they're special, too.
Reshare other users' pins especially the ones directly related to your niche. It makes them feel good to know that others like what they pinned. Another plus is the network visibility you gain from resharing.
Show your fun and quirky side by sharing jokes or funny memes. Customers who are in a positive mood are shown to be more inclined to purchase your products. You might also get reshares, getting free social media mileage.
3. Create superb Pins
Pins are ideas or products that you post on the site. These are what Pinterest users look at all the time. So, it's a must that you always upload quality visuals on your board. You have to make your pins click-worthy.
Here are some pointers to keep in mind to create stunning pins:
Upload high-resolution photos. You can even do close-ups for customers to admire all the details of your products. Professional photography is preferred to keep the pictures uniform and aesthetic.
Create Pinterest-friendly vertical images with a 2:3 ratio. A good example of a setting is 735 (pixel width) x 1102 (pixel height).
Show your product in action by placing them where they would be used. If you're selling scarves, take photos of your product being worn by a model. You can also show how they can be donned in different ways. You're offering people creative ideas plus your product looks so much better this way.
If you're using graphics, keep it beautiful and tasteful.
Use colors and fonts that pop.
Always keep your brand image in mind to make sure everything fits the look you want.
4. Manage your board
Having great Pins scattered throughout your profile is a no-no. They may all look nice, but it is very much disorganized, like a store with a shelf displaying apparel and home décor mixed together.
If a customer wants to look at certain items only, like shirts; it might turn them off if they can't browse through just shirts. It's important to keep everything grouped together to make shopping a pleasant experience.
Keep your boards organized using these tips:
Follow a theme for each board. It will look organized and pleasing to the viewers. This also makes it easier to tag for search optimization.
Some theme examples are collections based on color. A board will only contain products that are of the color blue, for instance. Another will contain products that are shades of red. It's visually appealing, and also draws in the people who are fond of each color.
Don't cram all of your products on one board. It would just look like a digital catalog. Tease your customers with some of your best items to encourage them to check out your online store.
You may also include related content you find on the internet to your theme boards. News, trends, or how-to articles keep your boards interesting and filled with variety.
5. Promote effectively for free
Create Product Pins, formerly known as Buyable Pins.
This enables users to directly purchase your products that are displayed as Buyable Pins. No need to leave the Pinterest website.
Customers can see other details like the price and availability of the products in stock. It makes shopping so convenient that this method attracts a lot of new customers.
Pinterest takes care of the check-out and payment transactions onsite for you. The best part is, you won't even have to pay for any of those services.
Indicate the price tag on your products.
Nothing turns off a potential buyer more than the hassle of having to ask and then wait for the seller to show them the price list. If the price is already shown, customers can immediately decide to buy it, no more long waiting time.
Use hashtags and SEO keywords in pin descriptions. Doing this will increase your visibility on the internet. You can't add hashtags to your profile bio or on your board descriptions. So make sure to maximize your pin descriptions.
Always tag images with links so that with just one click, your customers will be redirected to your product pages.
Share other users' Pins. Attract people's attention by sharing interesting stuff from other users. Your posts might also get repins this way.
6. Create a Pinterest Ad
A lot of brands have reported an increase in sales and new customer turnout by paying for promotions. So, investing a little in advertisements won't hurt at all.
Launch a promotion campaign by clicking on Create on the upper left of your dashboard.
Select Create Pin on the dropdown menu.
Type in the name of your campaign, write a description and put the URL link to your website.
Hit Publish or set a schedule for later.
To advertise the campaign you have just created, click on Promote Pin on the pop-up.
Same as Facebook ads, you have the option to allocate a daily budget and set the duration for your campaign. You can also target users who are more likely to click on your pin.
There is also a way to see what your Pinterest Ad will look like on desktop and mobile versions. You can edit accordingly to make sure they appear satisfactory on both platforms.
Click on Promote again to publish your pin.
7. Build a Following
Having more followers means more traffic to your store. The following tips will show you how to get more Pinterest followers.
Use keywords in Pin descriptions
All over the internet, keywords are utilized for search optimization to boost your store visibility. This is also applicable on Pinterest. So, make sure to include popular keyword searches into your Pins, board descriptions, and profile. This will help you become more visible across the web; helping people to stumble upon your profile and follow you.
Repin other people's post
People receive a notification when someone interacted with their pin. Use this to attract their attention. It might interest them to know who repinned their post leading to them visiting your profile, seeing your product pins, and following your brand.
For your business to grow, you need a lot of followers. Let the experts step in to get you more followers, so you can focus on your products.
In Summary
Pinterest is currently the greatest platform for businesses to promote their products. Don't let this opportunity pass. Create your free Business Account and follow these steps to succeed.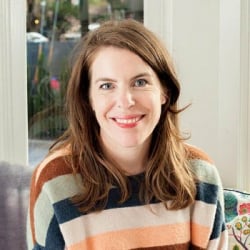 Latest posts by Maddie Schultz
(see all)