Pinterest is being accessed by over 431 million people every month. People all over the world use Pinterest as a search engine for their various interests.
If you own a Pinterest account, you're probably curious to know who visits your profile. This will give you an idea of who your audience is. And getting insights as to who your main audience is will let you tailor your future content strategy.
So, the important question in mind is, can you see who views your Pinterest? We will answer that and more in this short read.
And when you're finished, read our other Pinterest guides:
Can You See Who Viewed Your Pinterest Profile?
Some social media platforms, like LinkedIn, have a feature that notifies you whenever another user has checked out your profile. You will be notified when you access the site and also through email. This lets you know who is interested in you.
Unfortunately, Pinterest does not have the same feature. You cannot see exactly who your page visitors are, but there are ways to determine them.
How to See Who Repinned Your Pin?
To get information about your profile visitors, you will need to own a business account and also have your website verified on Pinterest. This lets Pinterest Analytics track the users who click your Pins and save Pins from your verified website. This is the roundabout way of checking who has seen your profile and/or Pins.
This old method is what users do to know the people who have repinned your Pins:
1. Log in to your business account on Pinterest.
2. Click the magnifying glass icon on the upper right to reveal the Pinterest search bar.
3. Enter this line in the search box. Simply replace yourdomain.com with the URL of your claimed website. https://www.pinterest.com/source/yourdomain.com/
4. Hit Enter on your keyboard to show the results.
Fortunately, there's a new feature on Pinterest Analytics that lets you track engagements on only your original Pins. This does not include Pins that don't link back to your website. No need to memorize URLs. You can easily access the info with just a few clicks.
Follow these instructions to see who has interacted with your Pins:
1. Log in to your business account on Pinterest.
2. Click your profile picture in the upper right corner of the screen.
3. On the next page, click the Created tab under your profile name.
4. Select a Pin to view the stats for each one.
5. Click the See more stats link to reveal detailed info.
What Information Can You Get About People Who Viewed Your Profile?
If you want to see detailed audience statistics, you can view the individual Pin stats and get the following:
Who repined your Pins
When they were repinned
Competitors profile he/she follows

Categories and interests they follow
Once you've claimed your website or blog, you can get stats about your page visitors. Data from the users who have interacted with your Pins are gathered by Pinterest. You can then access this information under Audience Insights.
You will be able to see the following data:
Age
Gender
Location
The device used to access Pinterest
To see these stats, follow these steps on a web browser:
1. Log in to your business account on Pinterest.
2. On the Pinterest dashboard, click on Analytics.
3. From the dropdown menu, select Audience Insights.

Knowledge Is Power
Though there is no option to see who views your Pinterest account, you still get tons of information about the people who engage with your Pins.
Knowing all this gives you an idea of who your audience is. You can then check if your brand is hitting the right target market. If not, you can adjust your campaigns accordingly to gain Pinterest followers in the correct demographic.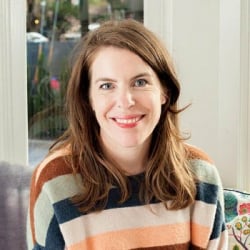 Latest posts by Maddie Schultz
(see all)