Pinterest is rapidly growing, with over 89 million monthly active users in the US and 365 million internationally. Thanks to its massive selling potential, this social media platform is a go-to for social media marketers. It doesn't matter if you're a small business owner or are looking to build your online presence as an influencer; this network should be on top of your list for promotion. However, if you're not sure how to advertise on Pinterest, and you're preparing to release your first campaign, we've got you covered. In today's guide, we'll go through all the basics of Pinterest advertising, types of ads, and how to create a successful campaign.
And when you're finished, take a look at our other Pinterest guides:
What Are the Benefits of Pinterest Advertising?
Pinterest is an excellent advertising platform because of its unique user base. Most of the people on this network are there looking for inspiration, and if they find what they like, the chances are they'll also get it. Unlike Facebook or Instagram, Pinterest is there to serve fresh content made of engaging visuals, and it's becoming one of the best assets to your marketing strategies.

Here are a few statistics that will help you understand why Pinterest is one of the best social media profiles to have at the moment:

Pinterest Ad Types
What are the common types of ads you can use as a part of your digital marketing strategy? You'll be surprised to hear that Pinterest offers quite a diverse selection, depending on your needs, types of content, and the goal you want to achieve. Here are the ads you have to know about and try:
Try-On Products Pins
This is a new format of Pin content that will become available for everyone during 2022. The platform wants you to transform your Pinterest profile into a changing room and let other users try on your products. They're perfect for clothing, jewelry, and beauty brands.
Rich Pins
Rich Pins include Recipe, Product, and Article Pins. Product Pins are the ones most people use for advertising, even though they're not a standard form of promotion. These Pins show the price, description, and title of your products. Then, if users click on the product, it will take them straight to your website where they can add it to their cart and check out.
Idea Pins
Also known as story pins, these bits of video content are meant to draw your audience and inform them more about your product or services. Of course, you can also add a lot of other features to the stories, including text, voice-over, tag other users, details, and more. The idea pins are pretty powerful because they tend to get a surprising amount of comments and engagement.
Carousel Pins
Carousel Pins are made of several images grouped together that other users can swipe through. You can add between two and five photos to a single ad. This ad type works for desktop and mobile users.
Collection Ads
Collection ads include one featured image or video, followed by three other pictures. Then, when people decide to tap on the ad, they'll also be able to see more photos and details about your products and services. These ideas are perfect for clothing, jewelry, home goods, decor, and beauty brands.
Promoted Ads
Promoted Pins are one of the most straightforward formats, but they are pretty effective. These are already existing Pins on your profile that you just promote and make popular again. When users click on these Pins, they'll go straight to the link you added when creating the campaign.
Shopping Ads
Shopping ads follow a similar format to collection ads, besides the fact that they only contain one photo or video. As a result, they're straightforward to use and work wonders for everyone who wants to sell on the platform.
Video Pins
Promoted video ads contain a video that provides details about your content, products, or services. Pinterest recommends that the ideal aspect ratio for these ads is 1:1, 2:3, or 9:16, while the length should be between 4 and 15 minutes.
What Is The Cost Of Pinterest Advertising?
How much does it cost to advertise on Pinterest? Before you start setting up advertising campaigns for your visual content, you have to know how much you'll have to pay. The advertising cost of your Pinterest campaign will depend on your goal. There are three main campaign types you should focus on, so we'll get more in-depth about each one, and you'll know what to expect.
Awareness
This campaign aims to make your brand more visible and for more people to become aware of it. In other words, it promotes your brand to the right audience, and it uses a cost-per-thousand-impressions (CPM) method. Therefore, you'll be charged each time your pin reaches 1,000 impressions. The average price is between $2 and $5 for 1,000 impressions.
Engagement
If you want to boost your engagement rate, this campaign type is the best choice for your business. In addition, when you want other users actually to interact with your visual and video content, then your goal should be higher engagement. The charge model is cost-per-engagement (CPE), and you'll have to pay each time users to interact with your ad, whether it's a re-pin or a click. The average cost of these campaigns is between 10 cents and $1.5 per engagement.
Website Traffic
Website traffic campaigns do precisely what the name suggests; they drive traffic to your website. The ad will include a link to your website, and each time a user clicks on it, Pinterest will charge you. For example, when people ask how to advertise on Pinterest for free, eBay, Etsy, and other online shops are the first things that come to mind. You probably wonder why. If you have an online store, linking your products on Pinterest and using this campaign will drive direct traffic. It's not free, but it's quite affordable because the minimum amount for these campaigns is 10 cents. In addition, you won't be charged when users visit the website from repinned Pins. In other words, this is a cost-per-click format that charges the amount you set before releasing the campaign for each click.

The cost of advertising might seem high at first; however, an excellent digital marketing campaign can take your business to a whole new level. Additionally, we didn't mention the two other goals: video views (meant to get more views on your videos) and catalog sales (ideal for e-commerce businesses).
Things to Do Before Advertising on Pinterest
Here are the things you have to do before starting your next Pin campaign:
Create a Business Profile
If you don't have a Pinterest account, you should create a business one. Also, if you have a personal profile, you can easily transform it into a business account.
Add Your Lists
If you have a newsletter, you should add it to Pinterest. This will include your email list and target the people from the newsletter. The ones with Pinterest accounts will start seeing your ads, and it's quite an effortless way to reach a wider audience.
Create Public Pins
This one's probably a given, but we have to mention it either way. You have to have at least a few public pins if you want to start promoting. The content should be engaging, captivating, enriched with high-quality images, creative titles, descriptions, and hashtags.
How to Promote on Pinterest
Business owners have to know the steps of creating successful ad campaigns. After completing your Business account, here's what you should do next:
1. Set a Campaign Goal
The first step of social media advertising is selecting campaign objectives. What do you want to achieve with the ads? Do you want to score more app installs or increase your conversion rate? We already talked about the goals in the previous paragraphs, so it will be much easier to know which one to choose. If you want more people to find out about your work, go for awareness. Select traffic as your campaign goal when you need to draw more traffic to your website.
2. Set a Campaign Budget
You can select a lifetime or a daily budget for the campaign when you get to this section. If you know the budget you want the ad to spend every day, choose daily, but if you have a total amount in mind, you can set a lifetime budget that the ad will use over a few weeks, days, etc.

Another setting is to determine the maximum cost. This is how much you want the ad to cost per click or engagement. You can also ask Pinterest to recommend an amount.
3. Optimize Your Ads
Pinterest SEO plays an essential part in the success of your campaign. Search engine optimization might not be the first thing on your mind when using this visual platform, but it should be to help you rank higher and get more exposure.

Before starting a campaign, you should research relevant keywords that will fit into your description and title. Keyword targeting is best done if you take several routes, including using keyword tools such as Google. Next, you should enter these keywords in the Pinterest search bar and see what comes up. The first words and phrases that appear are popular and should become a part of your ads. Keywords are also excellent for driving organic traffic, so you'll score on several fronts when doing your research.
4. Target Audience
You can't create a successful campaign without the right target audience. So even if you create highly valuable content, it still has to be presented to the right people. In this part of the setup, you have to determine who you want to target, including gender, age, location, interests, devices, and much more. The more specific you are with the filters, the better your ads will get to the ideal audience.
5. Don't Just Promote
Running promoted products and services constantly isn't enough. You also have to create organic content related to your niche and promote it. For example, if you sell clothes, don't only create ads that promote your pieces. Instead, you should also craft useful how-to Pins, educational Pins, etc. The best way to engage your audience is by offering a little bit of everything.
6. Be Creative
Pinterest is one of the most creative social platforms. It offers you the chance to promote your content in so many different ways, which means that you should constantly try new strategies. Another tip is to review your target audience and not get too attached to the one you used for your previous campaigns. As you release new ads, you'll learn what works for your brands and how you can target different people to increase your sales and gain Pinterest followers. When you know how users interact with your content, you'll also know what kind of images and videos you should prepare for the following ads. However, everything you Pin should be helpful, relevant, and on-brand.
7. Track the Success
Although most people forget about this part, we have to remind you that you have to track the success of your campaign. If you want to promote on Pinterest and use your money right, Pinterest Analytics provides you with a detailed overview of each campaign. Did this ad reach your goals, or was it not as successful as you expected? When you go to the Analytics section, you can review the metrics and see what you should do differently next time you advertise on the platform.
Conclusion
Social media marketing is one of the most critical parts of the growth of your business. When promoting on Pinterest, you first have to get educated on the different ad types, campaign goals, and the things you have to do before creating an ad. Then, when you're done with that part, just start following our guide for a successful campaign, and you're ready to go.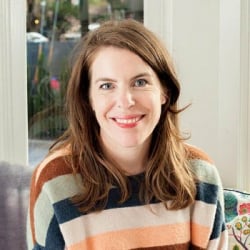 Latest posts by Maddie Schultz
(see all)