Why remove Pinterest from search results?
When people go online to search for something, they want real answers. Whether it's for a tutorial on how to fix the sink, the KFC secret recipe, or the latest Hollywood gossip, people want to get useful information fast.
However, online algorithms and search engine optimization methods have made searches quite complicated and time-consuming. Results are often an unhelpful mix of advertisements, poorly-written boosted articles, and Pinterest posts. Searching the web has become a task in itself because of the tediousness of having to filter through results to get the right answer that you need.
A lot of the time, Pinterest pins pop up in searches that do not match what you are looking for. This is because the Pinterest page or pin image is usually over-optimized using keywords. It means the person who posted it used tons of words in the title or description that are relevant to the post. Sometimes, even words that are just hot in searches but are not even remotely related to the post topic are utilized. When any of those keywords are entered, they will appear in your search results.
To make your online life easier, one way is to remove Pinterest from your searches. Decluttering the results you are presented with will make it easier to find the exact match for what you are looking for. You will finally get straight to the real answers by getting rid of the spam posts by Pinterest users trying to get you to visit their Pinterest boards and countless website links.
And when you're finished, take a look at our other Pinterest guides:
How to exclude Pinterest from Google image search results
There are actually two ways on how to exclude Pinterest from Google search. One requires you to memorize or copy and paste a parameter whenever you search. The other one only requires a one-time installation to make all of your searches Pinterest-free.
If you are the more techy type or you just have a great memory, the first method is for you. This technique employs adding search parameters that you can use to exclude anything from Pinterest (or from any other website) in your search results.
This method works for searches using a desktop or a mobile device. You will have to do this for every Google search you want to make Pinterest-free.
Open Google Chrome browser.
In the search bar, type in your query and then type in or copy and paste any one of these two search parameters: -site:pinterest.* or -www.pinterest.com
Hit Enter to get your search results.
Click on the Google Images tab to see image results sans Pinterest posts.
If you don't want to go through the hassle of typing in the parameters every search, the second method is for you. Fortunately for us, web developers have listened and done humanity a huge favor. They programmed web browser extensions to help people get more significant search results.
There are lots of extensions available that claim to remove certain sites from your searches. However, this one is the most effective of them all. You just simply install the Chrome extension Unpinterested! to easily remove Pinterest from your image search results.
This handy dandy extension is only available for the Chrome desktop version. Here is the one-time instruction you need to follow to eliminate Pinterest from all of your searches.
Go to the Google Chrome Web Store to get the Unpinterested! extension.
Click Install to add it to your web browser.
After installing, on the upper right of your browser, click on the puzzle icon to see your browser Extensions.
Select Manage extensions to show all the installed extensions.
Look for Unpinterested! on the list.
To have it appear on your browser toolbar, toggle the switch to turn it on. It is Off when the toggle is gray. It is On when the toggle is color blue or whatever color your browser theme is.
Then on your browser toolbar, click on the U! icon to show the settings for Unpinterested!.
Click the toggle to turn it On or Off depending on when you want to use it or not.
Enjoy endless image searches without the hassle of irrelevant Pinterest results!
Piece of advice for Pinterest account owners
Many people get annoyed with spam and unrelated posts that creep into their search results. That is why some of them resort to extreme measures like removing Pinterest from their searches.
So, if you have a business account, and you want to grow your Pinterest presence, avoid using keywords that are unrelated to your post topic. Don't be one of those spammers that people just mute or ignore.
Pinterest is such a popular social media platform. It has hundreds of millions of users that you can tap into. Simply practice proper Pinterest marketing, and you will get genuine Pinterest followers. Also, get constant user growth every month with a Pinterest growth service.
You can be successful without being annoying.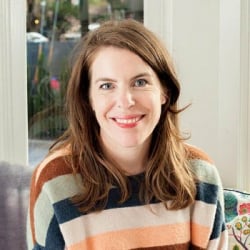 Latest posts by Maddie Schultz
(see all)