Can I still create a Story Pin, you ask? What used to be called Story Pins, Pinterest has renamed Idea Pins. And what used to be a feature available for everyone on a Pinterest Business Account regardless of the region is now an exclusive feature to Pinterest users that live in certain chosen countries.
We can only guess why Pinterest has implemented all the changes regarding Story or Idea Pins. Story Pins no longer exist – at least in a name – and we have now been calling them Idea Pins since May of 2021.
As per a report by Adweek.com, Idea Pins and Story Pins have no important difference. They are the same and are now an exclusively available feature to Pinterest Business Account owners from the US, Austria, Australia, France, Canada, Switzerland, Germany, and the UK.
Perhaps Pinterest wants to avoid looking like an imitation of the Instagram Story or My Day of Facebook. Instagram Stories compared to Facebook and Pinterest Stories are truly distinct from each other. We think renaming Story Pin to Idea Pin is the correct way to go.
What are Idea Pins for, then? Why should I use them, and will they be good for a business on Pinterest? Read on, as this short read aims to define Pinterest Idea Pins for you and show you how you could use them for a healthier Pinterest presence.
And when your done check out our other Pinterest guides:
What Are Pinterest Idea Pins?
If a Pinterest Board is a wide collection of pins of pics and vids about a broad topic, what, then, is an Idea Pin?
A Pinterest Idea Pin is a type of content on the Pinterest platform that enables Pinterest Business Account owners to pin multiple pics and vids focused on one specific idea.
If a Pinterest Board is comparable to the whole concept of anything and everything about knitting, then a Pinterest Idea Pin is a set of instructions on how one can knit a stuffed bear.
Pinterest Idea Pins are a permanent type of content and are not ephemeral like Instagram's Story or Facebook's My Day. Your Pinterest followers and visitors will be able to view your Idea Pins on your wall until you decide to delete them.
Pinterest Idea Pins Cannot Hold Natural Links
Although Pinterest is known as a tool to direct traffic to other websites, Pinterest Ideas aim for Pinterest users to remain on Pinterest. Idea Pins cannot carry natural links to any other website.
Pinterest has intentionally done this to keep Pinners (Pinterest users) "pinning" on their platform. This is most probably Pinterest's way of accruing the traffic they deserve. After all, Pinners can always access a Pinterest Business Account's main website through several other means on your Pinterest.
Why Use Pinterest Idea Pins?
Using Pinterest Idea Pins is your chance as a business or brand to further showcase your service or product to your target market. Show how to best use your product through Idea Pins.
Highlight how effective your service is in a series of media through Idea Pins. Only your imagination limits what you can do with Pinterest Idea Pins.
Pinterest Idea Pins are a simple, effective, yet subtle way to advertise your business through a platform that has 430 million monthly active users.
Creating Pinterest Idea Pins is free, too. Creating Idea Pins is like having your own Pinterest growth service without paying a premium fee.
The Pinterest Creator Code
You must know that to be able to post Pinterest Idea Pins, A Pinterest Business Account owner must adhere to and sign the Pinterest Creator Code.
The Pinterest Creator Code is Pinterest's way to make sure that its creators maintain a just, humane, inclusive, and kind social media environment.
The Creator Code is an oath that Pinterest Creators take that ensures that negativity, fake info, division, and exclusion are not instigated by Pinterest creators.
Sign the Creator Code and not only do you get access to Pinterest Idea Pins but you make a part of the internet a safe place to be in.
How to Create Idea Pins on Desktop
Follow these steps if you want to create Pinterest Idea Pins on your desktop PC:
1. Log in to your Pinterest account and convert your Pinterest Personal account to a Pinterest Business Account if you haven't already done so.
2. On your Pinterest Business Account dashboard, click the 'Create' menu.
3. Click on 'Create Story Pin' on the subsequent menu choices.
4. Upload pictures and videos.
5. Be creative in filling in details of your pin title, descriptions, and captions of your Idea Pin.
6. Choose a board to save your current Pinterest Idea Pin.
7. Choose 10 related tags to make your Idea Pin accessible to people who might like to see your Idea Pin.
8. Click 'Publish' and you now have a Pinterest Idea Pin!
How to Create Idea Pins on a Mobile Device
Follow the following steps to create Pinterest Idea Pins through your mobile device:
1. Tap on the + icon on the bottom of your Pinterest home screen.
2. Select what kind of Story Pin you would like to post.
3. Select what images and videos to include in your Pinterest Idea Pin. Select a cover image.
4. Have fun with your Idea Pin's layout by having it tell a story through the order of pages of your Idea Pin.
5. Name your Idea Pin. Don't forget to optimize with the best keywords.
6. Choose a board to save your Pinterest Idea Pin to.
7. Jazz up the details with a description.
8. Tap 'Publish!'
***Pro Tip! For both desktop and mobile, use images that are smaller than 32 MB and videos that are smaller than 50 Mb for best results.
In Conclusion
Pinterest Idea Pins are an easy way to make your brand more relatable to your target market. Make sure that you take advantage of this type of content and maximize your presence on the Pinterest platform in 2022.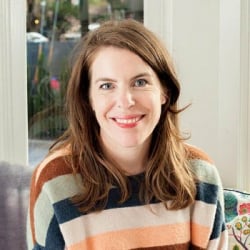 Latest posts by Maddie Schultz
(see all)