Pinterest is a powerful social media platform that offers businesses a unique way to reach their target audience. It is especially useful for freelancers to showcase their work and connect with potential clients.
Are you looking to start marketing your freelance business on Pinterest? You have come to the right place! This guide will discuss the basics of Pinterest marketing and provide tips for freelancers who want to use this platform to grow their businesses. We will cover skills needed for Pinterest marketing for freelancers, creating an effective profile, and using the right keywords. Following these tips can maximize your exposure and grow your business!
What Exactly Is Pinterest Marketing?
Pinterest marketing is the process of using the social media platform Pinterest to promote your business or products. You can do this in several ways, such as creating boards that showcase your work, pinning quality images and infographics relevant to your industry, and writing descriptions that include keywords.
Pinterest is a highly visual platform, which makes it ideal for promoting creative businesses or products. It is important to note that Pinterest is not a traditional social media platform like Facebook or Twitter. Instead, it is more similar to a search engine, which means that your pins and boards have the potential to be seen by people who are not already following you. This makes it an excellent tool for reaching new audiences and driving traffic to your website or blog.
What Skills Are Needed to Become a Pinterest Marketer?
Pinterest marketing for freelancers calls for specific skills. Let's discuss those needed to be successful in this role.
Excellent Copywriting Skills
Pinterest is a visual platform, but that doesn't mean the information content is unimportant. In fact, the text on your pins and boards is just as important as the images. This is because the board titles and descriptions you write are what will help users find your content when they use the search function.
Therefore, it is essential to have excellent copywriting skills and be able to craft engaging and keyword-rich descriptions. If you are not a strong writer, you may want to consider working with a copywriter or taking a course in copywriting.
Understanding of SEO
As we mentioned earlier, Pinterest is similar to a search engine. This means that the way you optimize your pins and boards can have a significant impact on your visibility. Therefore, it is essential to understand SEO (Search Engine Optimization) and how to use keywords effectively.
If you are unfamiliar with SEO, there are many resources you can use to learn more about it. The Moz blog and Google's Search Engine Optimization starter guide are good places to start.
Ability to Create Engaging Content
You need to create engaging and visually appealing content if you want people to follow your boards and share your pins. This means using high-quality images, infographics, and videos. You should also avoid using too much text on your pins, as this can be off-putting for users. If you are not a visual person, you may want to consider working with a graphic designer or using stock photos.
Ways to Use Pinterest Marketing
Are you one of those asking, "What is the appeal of Pinterest to marketers?" The answer might surprise you. Here are proven ways marketers use this platform for marketing.
Drive Traffic to Your Website or Blog
One of the most common ways businesses use Pinterest is to drive traffic to their website or blog. One can accomplish this by creating pins that link back to your website, optimizing your pins and boards for SEO, and using relevant hashtags. You should also ensure that your website is optimized for Pinterest, which you can do by installing the Pinterest tag and creating rich pins.
Generate Leads
Another way marketing experts use Pinterest is to generate leads. You'd want to start by creating lead magnets, such as ebooks, checklists, and printables. You can then promote these lead magnets on your pins and boards. When users click on the pin, they will be taken to a landing page where they can enter their information in exchange for the lead magnet. It is an excellent way to grow your email list and generate leads you can nurture into customers.
Increase Brand Awareness
As we all know, Pinterest is a great platform for increasing brand awareness. A smart way to do this is by creating pins that feature your brand logo, using relevant hashtags, and tagging other users in your posts. It would help if you also considered creating a brand board, which is a board that is dedicated to your brand. It is a great way to showcase your products and services and give users an idea of what your brand is all about.
Pinterest Marketing Tips
Follow these tips to make the most of your Pinterest marketing.
Create pins that are both visually appealing and informative. People are likelier to share a pin if it is eye-catching and informative.
Pin regularly. The more active you are on Pinterest, the more likely people will notice your brand. Aim to pin at least five times per day.
Engage with other users. When you repin or comment on other users' pins, they are more likely to take notice of you and perhaps even follow you back.
Use hashtags wisely. Hashtags can be a great way to help people find your content, but be careful not to use too many hashtags in each post, as this can come across as spammy. Limit yourself to 1-2 hashtags per post.
Run a contest or giveaway exclusively for those who follow you on Pinterest. It is an excellent way to increase engagement and followers!
Conclusion
There you have it – a complete guide to Pinterest marketing for freelancers. We hope it has been helpful for you. By following the tips in this Pinterest marketing guide, you can be well on your way to success! Just remember to be creative, consistent, and engaging with other users.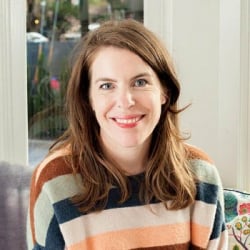 Latest posts by Maddie Schultz
(see all)