If you still haven't hopped on the Pinterest train for your business, what are you waiting for? This is one of the top platforms at the moment for people who want to boost their sales and grow their business. In the guide below, we'll help you understand how to use Pinterest for business.
Aside from being one of the most popular search engines, Pinterest helps you place visually satisfying content that is perfect for promoting products and services. It's not just a platform where you can find inspiration for your next birthday; it's a place with incredible and rising potential for business development.
In this article, you'll get familiar with the most common terms that you need to know. After going over the basics, you'll see why Pinterest is the perfect platform for growth. Finally, we share some of the best tips and tricks that will help you reach all your goals. If you're ready to market on Pinterest, keep on reading our guide!
Pinterest for Business: Important Terms to Know
Before you learn how and why to utilize Pinterest to grow your business, you need to get familiar with the most common terms. If you don't know your terms, it will be much harder for you to understand what we're talking about in the strategies below.
Pins: a Pinterest pin on this platform is what stories and pictures are on Instagram. Pins are the content that you post.
Rich Pins: Make sure to include rich pins to every pin image on your business profile. Use one of the various types of rich pins to give Pinterest users more extensive information about the products/services and real-time prices. 
Pinner: Pinner is the Pinterest user or a person that is active on this platform.
Boards: Boards are Pinterest's way of gathering pins and organizing them in one place.
Comments: Did you know that you can leave comments on other people's pins? Actually, you should comment on other people's pins and respond to the comments on your pins.
Feed: Like Facebook, Instagram, Twitter, you have a Pinterest feed where you'll see the content that the people you follow share.
Save button: Pinterest has a save button that will add the pin to one of your boards. You can add this button as an extension to Chrome, Microsoft Edge, your website, and more.
Hashtag: hashtags on Pinterest have the same role as the ones on Instagram. They will help you find the things you're searching for and should be used as a part of the marketing strategy.
| Just so you know: 6 Pinterest Chrome Extensions for Business
Why Should Your Business Use Pinterest?
Pinterest is a growing platform that is becoming more popular among business owners. Although it has been around for a while, it's just becoming a trend for advertising businesses. If you're still not convinced, go over these points:
Reach a Wide Audience
Pinterest has over 459 million active monthly users and gained over 100 million monthly users in 2020. This is one of the most popular platforms in the world and an excellent opportunity for your business to reach a broad audience.
Visually Pleasing Content
All the content on Pinterest is first visual, then informational. This is a platform that focuses on sharing eye-catching pictures, text, and videos. Forget about the regular blog post; Pinterest is the new way of growing a business.
| Read: How to Create Successful Pins on Pinterest Step by Step?
Links To Products
Pinterest offers the opportunity for you to link your products on each pin with the Rich Pins option.
Different types of rich pins can be beneficial to your work. For example, product pins are great for everyone who wants to place their products on the market and give information such as the current price, a link to the website, availability, and more. The purpose of these pins is to take the customers straight to a checkout page where they'll purchase the item. It's perfect for business, but you need a website to link the pin to. You should also add the pins to your website to synchronize the content.
Article pins exist to help Pinterest users get more familiar with published content, including description, title, and more.
Recipe pins will help you share more information about a specific recipe, such as ingredients, cooking time, portion size, and more. 
| Read: How to Create a Pinterest Shop
Drive Website Traffic
Pinterest gives you the opportunity to add links to your pins. You can link the content you post to the products on your website or the services you offer. That's how this platform will increase the website traffic for you.
Increase Sales
50% of Americans shop on Pinterest. The ones that are not shopping are about to board the trend very soon. Just in the final quarter of 2020, the shopping revenue on this platform grew six times.
Reaching Your Business Goals With Pinterest: Tips And Tactics
Although you can't expect these tips to make you the biggest Pinterest star overnight, they are the best way to increase engagement, draw attention to your brand, draw website traffic, increase sales, and gain overall exposure.
1. Post Quality Content
As we mentioned, Pinterest is all about visually pleasing content. These are not the regular photos that you post on Instagram. Pinterest content should be fun, engaging, offer value, and be eye-catching. Work on creating great visuals, and capture your products under quality lighting.
2. Create Ads With Promoted Pins
Pinterest's ads are great; just make sure to use them. Although most people underestimate the marketing power of this platform, you can be the one that will implement the right advice and prove them wrong.
Promoted pins are a marketing tool that will increase your traffic, boost overall engagement, increase online sales, and more. All you need to do is set up the Pinterest Ads option.
3. Research Trends
Use Pinterest searches to find out about the latest trending topics on the platform. This will also help you see which potential keywords you can use in your next post. When you type in a keyword, you'll get a list of other possible suggestions. Those words are popular, meaning that you can include them in your photos, title, description.
When you notice that a particular topic is gaining popularity, find a way to connect it to your products or services and post more content around it.
4. Use Pinterest Analytics
What better way to know what works and what not than following your analytics? This is a platform that gives you an insight into your audience's demographics (age, location, gender), the best-performing pins, the best posting schedules, and much more.
Thanks to this free valuable information, you can create strategies that will boost the engagement of your future content. The higher your engagement, the more people will notice your business.
5. Pinterest SEO
Pinterest is a search engine; that's why SE-optimized content should be a part of your strategy. Just like any other search engine, this one relies on keywords. Do your research to find the top-performing keywords and include them in the title and description of your post. These words should be a part of your boards, your company info, and all the content that you post.
Another smart idea is to research hashtags. They can also be very helpful in boosting your SEO score. When entering a hashtag, you'll see what the most popular searches are, and you can also get additional valuable information from that.
6. Use Boards
Whether you create a board, join group boards, or do both, it doesn't matter as long as you're using them. A great idea to increase exposure is to ask to join group boards. They are boards created by a person who can add collaborators and contributors.
In most cases, these boards feature many members, so that's an excellent way to reach a broad audience. You'll see that presenting your products and services in front of a larger audience will instantly boost your business and sales.
7. Use a Pinterest Growth Service
If you're tired of doing everything under the sun to achieve Pinterest growth, you've come to the right place. Pingrowth is the number one organic Pinterest growth service that will get you thousands of new followers. What's even more important, these will all be organic followers, eager to start pinning and engaging.
This growth service works wonders because it gets information about your target audience and attracts their attention. We focus on a particular demographic that is highly likely to increase your social influence and help you promote your business.
The rates are affordable, you get one-on-one consulting sessions with an account manager, plus we offer 24/7 support. Let's not forget that your information is 100% safe, and we don't request your password.
8. Stick to a Posting Schedule
To build a strong community, you need to establish an online presence. If you post only once in a while, you won't get the engagement that you want. That's why you should focus on setting a posting schedule and always stick to it.
You should be active even when you're not posting. Leave comments on other pins, be a part of boards, reply to the comments on your posts, repin pins, and more. The content that you post should still be beautiful, but make sure to post it more often.
Find out when the best posting time is from your analytics. Go over the statistics to see which posts performed best and when you uploaded them. This is a great free way to get valuable information straight from your community.
How to Set Up a Pinterest Business Account?
Creating your Pinterest business account is as easy as one, two, three! This is the most straightforward part of the entire process. All you need to do is follow the steps below:
Visit the Pinterest site and choose Pinterest for Business. Next, go to Join as a Business.
You will need to enter your email and password. It's best to have an email for your business that will also feature the name of the brand.
Next, write the name of the business, your preferred language, and choose a location. You need to fill in the description for your brand as well.
Connect your business profile to your other social media platforms. You can link this profile to Facebook, Instagram, your website, Etsy, and more.
Add the Pinterest Ad feature to your profile, so you can promote your business.
Customize your profile. Your Pinterest profile should feature a photo, detailed description of the business, and don't forget to add relevant keywords.
Use the menu to find the analytics section so that you can track your metrics.
Now you're ready to start creating content, growing your business, and pinning.
As you can see, setting up a business account is so simple and only takes minutes. If you are already logged into Pinterest with your personal account, you'll need to log out first, then create the new profile. There is also an option to convert a private account to a business, but that's for people who won't be needing their private account.
Conclusion
If you wanted to know how to use Pinterest for business, this guide has got you covered. We made sure to include a list of points to guide you through creating a new Pinterest account meant for your business. There's also a list of reasons why this platform is such a great place for your business right now.
Although there isn't a secret strategy that will bring you instant success, the tips, and tricks that we listed should work great. Some of the things that you should keep in mind are: always create boards and join group boards to promote content, create high-quality content, focus on SEO, create ads, get information from the analytics section, research trends, and stick to a posting schedule.
If you want to organically grow your following, we're here to help. Our team will make sure to target the proper audience and get you followers that will engage with your content. We have three different packages to choose from, and a free three-day trial, so why not give it a shot?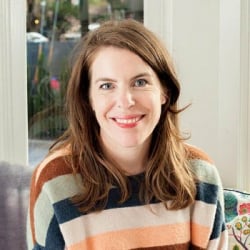 Latest posts by Maddie Schultz
(see all)