As one of the most popular global platforms, Pinterest has over 450 million users monthly, but that wasn't always the case. Today, our goal is to inspire you with the amazing story of this network. Do you know who founded Pinterest? Have you heard about the site's beginnings? Well, tag along for a ride, and you'll learn how an empire is made.
How Long has Pinterest Been Around – a Success Story
Who founded Pinterest? Who is the genius that brought us endless hours of fun and the opportunity to advertise our businesses for free in such a creative way? Ben Silbermann, Evan Sharp, and Paul Sciarra are the three young men who had an idea and soon started working on it. Silbermann previously worked at Google, while Evan Sharp and Paul worked at Facebook and Radius Ventures, LLC.
Almost two years before Pinterest happened, Ben left his Google job to focus on his own projects. First, he released an iPhone app named Tote, but the investors didn't like it, so he had to quit the idea. Overall, it was an app that helped people shop on their phones, but unfortunately, it was too complicated to use. His next step was this new social media site that uses visual discovery to get its users closer and build a community. It took Evan, Paul, and Ben a while to get to where they are now. So, let's see when and where it all began.
When Was Pinterest Founded?
History of Pinterest started on idea in 2009 in a tiny apartment located on West 103rd Street in New York. That was just the beginning of a fascinating story that is today worth over $50 billion.
The next step for the three founders was releasing their first desktop version of their little project. The initial launch of Pinterest happened in March 2010, when they decided to present the Pinterest site for the first time to the world.
They opted for a closed beta release, which means that it was only released to a small group. Slowly, the site turned into an open beta format, and more and more people could access it, but only if they had an invitation from a previous member.
Three months later, they had 3,000 users, next they reached 5,000 users, and nine months after the launch, Pinterest had 10,000 users. This might not sound like a huge number, but even the smallest successes were a reason to celebrate back in the day. Silbermann was the one who got in touch with the user base, getting them to talk more about what they like, dislike about the site, and their overall experience.
It wasn't long after that Pinterest became a global sensation. The following year, they were listed as one of the best websites in the world by Time magazine. Today, Pinterest has over 459 million monthly active users and is worth more than any of us could imagine.
The initial Terms of Service said that this platform is the owner of all images that a user will upload on their website. However, that changed in 2012, when the site made it clear they were never planning on selling content from the site.
How to Use Pinterest for Business
Is Pinterest an excellent place to promote your business and boost your sales? This platform is becoming more shopping-friendly, as it's releasing new features that make the shopping experience much easier for Pinterest users. From January to August last year, weekly conversions on this platform noticed an increase of 300%. In other words, people started shopping like crazy.
But, how can you get to that point when you can successfully run a business here? First, you need to gain Pinterest followers. The best way to do that is with great content and an excellent organic Pinterest growth service. Organic means that you'll be getting real followers, people that exist and that will engage with your content. We get the information about a target group from you and make it our goal to find the best possible candidates to send your way.
The next thing you know, you're growing 5,000 followers by month, and your sales are booming!
Conclusion
When did Pinterest start? The story of this fantastic platform began in 2010 when the three founders first released the website to a limited group of people. Since then, Pinterest has been growing to become one of the most beloved social media platforms in the world.
In the past few years, this network showed immense potential for business promotion. As the Covid pandemic hit, their shopping numbers started going up, and their team kept rolling out new shopping features. If you're unsure how to use Pinterest for business, reading the previous paragraph will be a great start. Just focus on growing your numbers, and the increase in sales will follow.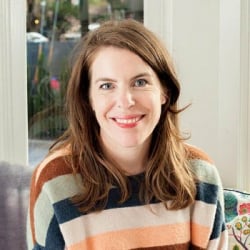 Latest posts by Maddie Schultz
(see all)