Pinterest has over 454 million active users every month, 91 million of which are from the United States alone. Most of these people go on the site to get gift ideas and inspiration. They are ready to spend some time and make purchasing decisions.
A huge percentage of these users do end up purchasing items they see on Pinterest stores, gaining the platform the title of social media site with the highest conversion rate.

Why Should You Sell on Pinterest?
People spend most of their day on the internet – posting on social media, browsing the hottest trends, and doing online shopping. Businesses should go with the flow and make their products visible online.
Pinterest has disclosed that 97% of the searches on their site are unbranded, meaning these searches are comprised of generic terms or keywords. It seems that people are looking for stuff that they like, not products made by specific brands. This means that small businesses' products have as much chance of showing up in searches as those of big brand names.
This trend gives entrepreneurs and people who are just planning to start a business a chance to grow on Pinterest.
If you own a business or want to start one, this is the best platform to display your products on. Create a shop on Pinterest – hassle-free and at zero expense! We'll show you how.

Where Can You Find (and Use!) the New Pinterest Shop Tab?
The new Pinterest tab, Shop, is conveniently located just under the name of the business page. Pressing this tab will display the featured product groups of the store. Pinterest, being a visual platform, created this business account feature to let you choose which product photos to push in front of your potential customers.
The Shop tab is only available to Verified Merchants on Pinterest. The blue check badge on your profile and even on your product Pins shows that you have been verified. When you are verified, it means you have passed the platform's Merchant Guidelines. This gives users confidence when shopping at your store.
Your product Pins will also have more visibility by being included in dedicated shopping experiences when users click Shop more like this.
Pinterest shops who will complete these three steps can become Verified Merchants:
1. Sign up for a business account. An alternative is to convert your existing Pinterest account into a business profile. You can follow the steps on how to create a business account if you do not have an account yet.
2. Add your data source. Pinterest requires businesses to provide a URL to their product catalog. The products' pricing, details, and availability are accessed daily by Pinterest so that your catalog is kept up to date every day on the site. Up to 20 data sources or product catalogs can be linked to your business account. Follow these steps to add your data source.
3. Create product groups. Organize the products in your catalog into groups. This could be according to product type, design, etc. These product groups will be featured in your Shop tab, so it is a must-have. You can follow these steps on how to create and manage product groups to finish this step.
Once you have fulfilled these three requirements, the next step is to choose which product group you want to be featured on your profile. Make sure to select a group that you have created manually, otherwise, the Shop tab will not appear on your profile.
How to Create Shoppable Pinterest Posts?
Shoppable posts look the same as regular Pins. The only difference is that these product Pins redirect to the external e-commerce website of the shop. Wherein the customers can easily proceed to checkout and pay for the item right there.
The key difference is the addition of the product link that connects it to the e-commerce store. The link synchronizes the item's details like the price, variations, and availability from the store website to Pinterest; keeping your products updated across platforms. This link can be added individually when you create a Pin.
There is another way to add product links in bulk, and that is through Catalogs. You just need to upload a comprehensive list of your stock items, also called your data source. From this data source, Pinterest creates product Pins for each product in your catalog. The site also updates these product Pins every day for you. Talk about hassle-free.
The additional benefit of using Catalogs is that the product Pins made from Catalogs can be used to make shopping ads. It's an extra option to promote your products to more users.
These are the requirements to be able to use Pinterest's Catalogs:
1. A Pinterest business account.
2. A claimed website or domain.
3. Your website must follow Pinterest's merchant guidelines.
4. You must have a data source or your product catalog.
5. Your data source must be accessible online to Pinterest every day.
After meeting these requirements, you can now add product Pins under your Shop tab. Here's how to set up your product catalog:
1. Use any of these formats to ensure that it is supported by Pinterest:
XML (RSS 2.0)
Comma-separated values file (CSV)
Tab-separated values file (TSV)
2. Create a catalog or list of your products with complete details. Required fields:
ID of the product
Title of the product
Product description
Link
Image link
Price
Availability
3. There are optional fields where you can put additional product photos and info. The more info you put, the more relevant your Pins will be to your audience.
4. Add the URL of your data source to your Pinterest account.
Partnering with any of these e-commerce websites will help you in the process of formatting your product catalog.
Some Tips to Get Your Brand Ready to Sell on Pinterest
Take high-definition and tasteful product photos.
Complete your product catalog details to ensure that the data is ingested properly.
Make sure to offer only high-quality products. People are willing to spend more on good quality stuff. Having unsatisfied customers that leave bad reviews will ruin your shop's reputation.
Pinterest Shop Is the Future of Business
We hope you did learn how to use Pinterest for business to boost your brand's presence. Now you can use Pinterest to enrich your customers' shopping experiences and get a high rate of conversions. So, grow your follower base and earn!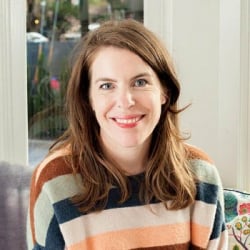 Latest posts by Maddie Schultz
(see all)