Pinterest is still one of the best, if not the best, places on the internet to visit to get inspiration for whatever project we are working on.
An average of 431 million active users is a testament to Pinterest's effectiveness as a visual discovery engine platform. Pinterest is unrivaled as the internet's most inspiring place to be in.
Pins and boards of pictures of things that can expand horizons regarding our hobbies, passion projects, and business endeavors can be seen and discovered on Pinterest. And not so long ago, Pinterest enabled users to upload videos on the Pinterest platform.
Wouldn't it be great if you could download videos from Pinterest for offline viewing? Don't you wish you can learn how to save videos on Pinterest to your desktop PCs or mobile devices?
We have good news for you. With a simple trick, you can download videos to your phone or desktop PC.
And when you're done check out our other Pinterest guides:
What Are Pinterest Video Pins?
Pinterest video pins are just like any other pin on Pinterest but are videos instead of the more common image pin.
Video pins were first introduced back in 2020 as an update to fill the need of Pinterest users for more engaging content on the Pinterest platform. The video pin has since then flourished as most if not all creators have embraced the use of the video pin as a main type of content.
Pinterest users can post videos on boards as video pins. Video pins should be in certain formats and have maximum file sizes and lengths. Also, not all aspect ratios will work.
Here are the specific specs of a Pinterest video pin:
File type – must be in .mp4, .mov, or .m4v
File size – maximum of 2 GB
Video pin length – 4 seconds minimum, maximum of 15 minutes
Aspect ratios –

1.91: to 1:2,
1:1 for square
4:5, 9:16, and 2:3 for vertical
9:16 is most recommended by Pinterest
Pinterest users can save these video pins to boards they create, just like an ordinary image pin. They will just have to save them in an already existing board they have or save them in a new Pinterest board for video pins.
Steps on How to Save a Video Pin on Pinterest
Thankfully, there are no real big differences in how to save video pins and image pins to your Pinterest boards.
In case you need instructions on how to save them, here are steps on how to save a video pin using your desktop PC:
1. Log in to your Pinterest account on Pinterest.com using a web browser like Chrome or Firefox.
2. Locate the Pinterest video post you want to save.
3. Hover your mouse over the video until the red Save button appears.
4. Make changes to the board, the video pin will be saved if necessary. Clicking the downwards arrow to reveal the name of the board you want to save the video on.
5. Click Save.
Note that you can also create a new board if you want to save the video pin in a completely new board. Just click the + icon that says 'Create board' and name your new board and then click 'Create.'
Downloading Video Pins from Pinterest to your Mobile Device
It is great to save video pins to Pinterest boards you already have on Pinterest but downloading your copy of Pinterest videos is much better. You can have these videos on your phone for online viewing, and you don't need to open the app to view these videos.
Here are the steps on how you can download Pinterest videos directly to your phone or mobile device:
1. Open the Pinterest app on your mobile device's home screen.
2. Locate the Pinterest video you want to save to your mobile device.
3. Hold and long press on the chosen video.
4. Wait until options appear and choose and slide to the 'Send' icon.
5. A pop-up menu appears. Tap and choose 'Copy link.'
6. A notification should appear from the top of your screen saying 'Link copied.'
7. Go to Downloadpinterestvideo.com on your phone's web browser.
8. Paste the link of the Pinterest video you copied from the Pinterest app in the text bar.
9. Tap on the 'Download' button.
10. The Pinterest video will be saved in the Downloads folder in the Files app of your mobile device for offline viewing.
Downloading Videos From Pinterest to Your Desktop
You can also download Pinterest movies to your desktop PC. All you need to do is follow a few simple steps using Pinterestvideodownloader.com. This is advantageous for offline viewing anytime.
Here are steps you can follow to enable you to download Pinterest videos to your desktop PC:
1. Go to Pinterest.com on an internet browser.
2. Log in and locate the Pinterest video you want to download.
3. Click on the Pinterest video.
4. Click on the upwards arrow to send this pin icon just to the top right of the Pinterest video.
5. A pop-up menu will appear. Choose and click the 'Copy link' chain icon.
6. Go to Downloadpinterestvideo.com on an internet browser.
7. Paste the Pinterest video link you copied in the provided text box for Pinterest video links.
8. Click on the blue 'Download' button.
9. Click the 3 dots menu button.
10. Choose download on the subsequent menu.
11. You can now choose the folder in which to save your downloaded Pinterest video.
In Conclusion
Saving Pinterest videos to your boards is very useful, especially for Pinterest business accounts. This works like your own Pinterest growth service in terms of gaining some more followers.
Downloading videos that you can watch anytime or use on social media platforms is not a bad perk either. Master saving and downloading on Pinterest and have a better time as a Pinterest business or personal account owner.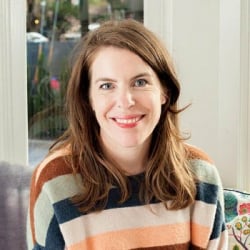 Latest posts by Maddie Schultz
(see all)