The Pinterest site is used by millions of individuals all around the world who are looking for the most inspiring things to do, wonderful recipes to make, DIY creative videos to watch, and much more.
While the majority of us are now familiar with the concept that Pinterest provides a means to create boards and see them on the app, many people are still unsure about whether they will be able to view the content offline.
This is why we are going to talk about how to download videos from Pinterest and view them anytime we want on our devices.
Continue reading to find out more.
Why download Pinterest videos?
Many features have been created by Pinterest throughout the years, attracting millions of content creators to the platform. There are several solutions available to assist you to make money with Pinterest while also growing your following.
While we believe that generating content for Pinterest may be both enjoyable and profitable, we would like to investigate the possibilities of downloading content such as videos, GIFs, and photos.
Because the platform does not allow downloading videos, many people believe that it is not feasible; nonetheless, we will demonstrate that you can do it.
By downloading videos, you will be able to carry your Pinterest material with you everywhere you go, even if you do not have an internet connection.
The ability to watch videos stored on your phone and computer may be quite amusing and motivating, especially on long travels or when you simply want to recollect a video you found fascinating.
How to download videos from Pinterest?
Despite the fact that Pinterest does not have a download option, you may still save images and Pinterest videos from the site's library. All you have to do is select the most appropriate third-party Pinterest video downloader to accomplish your goal.
Depending on your preferences, you may choose to download the video to your computer or your mobile device. We will walk you through the process for both alternatives.
How to download videos from Pinterest on the computer?
It is simple to download videos onto your computer; just follow the instructions provided.
Because it will be simpler to view and copy the video URL, this is frequently the favored way of downloading videos by the majority of people.
Log into your Pinterest account
Search videos you want to download
Once the video is playing, copy the link to the video found in the address bar
Paste the link into the chosen third-party downloading app
Click the download button and save the video.
How to download videos from Pinterest on the mobile phone?
You may still download videos from Pinterest if you choose to use it on the move and prefer the convenience of a mobile phone app over a website.
Here is what you need to do:
Download the Pinterest app and sign in to your account
Search for the video you want to download in the search bar
Play the video of your choice and find the sharing options in the corner
Select "Copy Link" from the menu
Paste the copied link into one of the third-party apps for downloading videos on mobile devices
Download the video.
Even if Pinterest does not provide a download option, as you can see from the example, you can still save the videos without too much difficulty.
Best third-party apps to download videos from Pinterest
Now that we've learned about the potential of downloading your favorite video, you might be asking what the ideal video downloader tool is.
We have chosen the best ones available on the market because there are many and not all of them function in the same way.
Let's see what are the best apps:
This is by far one of the most popular apps for downloading Pinterest videos, pictures, and GIFs, as well as other types of content.
It's simple to use, works with a wide range of devices, and takes only a few minutes to download. You also do not need to sign in to your Pinterest account in order to utilize it. In addition, you have the option of selecting the appropriate format and all kinds of video quality for the video you wish to save.
This program was previously known as YouTube By Click, but because it can now download videos from sources other than YouTube, the new name better represents it.
This software is compatible with over 40 websites, making it one of the finest video downloaders on the market. In addition to selecting the video's quality and format, you may also download just the audio.
Catch.Tube is one of the finest third-party downloading applications since it works with most browsers and even has a built-in Chrome extension.
This will greatly simplify the downloading and storing of Pinterest videos. You may select from a number of additional features and conversion options to create the best-saved video ever.
Although the name may not sound appealing to Pinterest users, this is one of the finest tools for downloading videos and GIFs from Pinterest and other social networks.
It is popular among millions of users since it works with most devices and operating systems.
Pastedownload is a free third-party program that allows you to download videos not just from Pinterest, but also from a variety of other websites and social media networks
It's user-friendly and simple to grasp the numerous options offered.
Final Thoughts
Pinterest has grown into a fantastic resource for all creative individuals and those searching for inspiration. Millions of people use it every day. However, while many people assume that Pinterest is exclusively for photo lovers, high-quality videos and GIFs are also quite popular on the platform and can be used to grow your Pinterest account.
There are some fantastic features on the site, such as the ability to create private boards and pin material to them for later use, but it's also useful to know that you can easily download links if you so choose.
Even if Pinterest does not offer this feature, there are a plethora of alternatives and third-party apps to consider.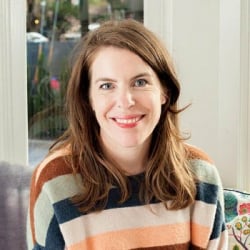 Latest posts by Maddie Schultz
(see all)