Pinterest was formerly thought to be simply an inspiring social media platform where you could find ideas and DIYs, but that has changed. Pinterest has evolved into more of a visual search engine in recent years, with users seeking items, advice, and so much more.

This is one of the reasons we are discussing how to make money on Pinterest and whether it is really viable.

The good news is that by growing your Pinterest account, you are boosting your possibilities of generating substantial revenue, as we shall discuss.

Does Pinterest Pay Pinners?
When consumers hear that they can make money on Pinterest, they instinctively assume that the platform pays content producers. This is not exactly correct because Pinterest does not pay you directly.

However, there are several methods to earn money there, and many of them are quite simple to complete. You only need to keep a few things in mind:

Produce high-quality pins and original content;
Be sociable and share as much stuff as possible.
Increase your following;
Obey all community standards and rules.
Give yourself plenty of time.
Follow our guide and take notes once you are ready to take your experience to the next level and contemplate how to monetize Pinterest.

Is It Possible to Make Money Without A Blog Or A Website?
While looking for methods to generate money on Pinterest, you must have come across the concept that having a blog or a website is the ideal option to drive traffic to them from Pinterest.

While we believe that this is the most profitable and long-term strategy to improve your income, there are a few other options.

Let us have a look at what this incredible platform has to offer:

1. Sell your own products
While Pinterest is primarily a search engine, there is still an opportunity for personal stores and the sale of goods and services. Furthermore, the platform has billions of users, thus the opportunity to expand your audience is tremendous.

This is why selling your items on Pinterest is one of the finest methods to make money. Keep in mind that this is a visual medium, therefore eye-catching material is essential. So, be sure to set aside enough time to create a great and fascinating pin that will best promote your goods.

Experiment with various settings and editing tools to discover the best method to market your product or service, and monitor reactions and followers.
2. Affiliate
Affiliate links are one of the most profitable and simple methods to earn money on Pinterest. While the majority of them are utilized in personal blogs, you can have affiliate links even if you are not a blogger.a

A certain business will approach you if you become a devoted user and an active participant on the site while acquiring more followers. You may also apply for affiliate links on your own.


These links will be included in your pins and will sell items for which you will receive a commission. There are a few things to keep in mind:

Make eye-catching pins;
Make certain that all Pinterest requirements for affiliate links are followed
Concentrate on a single market;
Be upfront about utilizing affiliate links and use a #affiliate to alert everyone.
3. Work as a Pinterest virtual assistant
Many businesses recognize Pinterest's potential and wish to advertise their products or services there, but lack the time or expertise to do so. As a virtual assistant, this may be a fantastic earning opportunity for you.

Although it takes some time to understand, you can start generating money by assisting others in creating successful Pinterest accounts in a couple of months.

This is accomplished in a variety of ways:

Make intriguing and engaging pins;
Manage other social media accounts;
Arrange for the posting of pins;
Increase mailing list size;
Find more clients
Virtual assistants handle a variety of tasks, and if you get the hang of it, you may have many customers and, of course, multiple sources of money.

4. Develop a skill
While Pinterest may help us find the best answers to many issues, it can also be utilized as a learning tool. This is why we believe you may earn money even if you do not have a blog or a website.

Pinterest offers so much material that it is almost like a free library of wonderful lessons you can learn and then commercialize in real life.

Whatever you want to learn, such as how to knit, build furniture, or produce a podcast, you can find it on Pinterest. If you put in enough time and effort, you will be able to earn a living by using your new talents.

How much can you make on Pinterest?
Now that you know there are numerous methods to get money on Pinterest, you may be wondering how much money we are talking about.

This is determined by a variety of circumstances, and the typical income ranges from a few dollars per day to $10,000 per month. Having several sources of income is one of the finest techniques for generating money.

This includes creating a blog, having affiliate links, making money from advertisements, and other methods that can add up to a significant sum to your account.

While most individuals earn a few hundred dollars per month as a passive income, you may make this your full-time career while making more money than ever before.
6 Pinterest Money-Making Strategies for 2021
If you thought we were done with the Pinterest list of prospective money sources, you were mistaken. There are more options than ever before to choose the perfect solution for you and start a job online.

Consider turning your passion into a profitable job in one of the following methods:

1. Start a blog
We have said that there are methods to generate money without a blog, but let us be honest: the best and most lucrative approach is to start one.

Starting a blog may appear more complicated than it is. All you need are some fundamental computer abilities, some time to explore and learn, and plenty of practice. When you start your trip, all of this comes naturally.

Blogs are typically made on free platforms, however, this is not suggested if you want to be considered seriously and collaborate with businesses. There are several low-cost solutions available that can offer you professional-looking blogs in no time.

Blogs may earn money in a variety of ways:

Using affiliate links
Increased traffic to your blog and advertisements revenues
You may advertise your blog on Pinterest by generating fascinating material, converting it into eye-catching pins, and posting it on your account. This will bring a lot of attention to your site and enhance your chances of making more money.

Here is a list of topics to think about:

Create quality content;
Maintain an active presence on social media.
Make intriguing pins and think about pin descriptions;
Create an eye-catching bio and Pinterest profile;
Examine your target audience as well as your SEO strategies.
Increased traffic on your website implies more ad income and more clicks on affiliate links.

Remember that in order to do anything with your blog, you must first register a business account on Pinterest. This account is free and includes some extra features, such as analytics, to help you figure out what works best for you.
2. Market your shop or e-commerce site
You may not enjoy writing and blogging, but you may have a business on Etsy or something similar. Do not fear, you may still use Pinterest for commercial purposes.

This is an incredible site where individuals come to look for and purchase practically everything. It competes with Google and Facebook, so it can be used to offer more goods and services.

All you have to do is design an intriguing pin that will attract more followers while also answering their queries or searches. To enhance your chances of getting discovered, use creative Pinterest strategies such as descriptions and hashtags.

The pin should include a link to your shop, where customers may find the products they are looking for.

3. Assist Users in Shopping Your Look
A particular function on Pinterest, similar to affiliate links but somewhat different, allows you to share images of your everyday looks and help people buy the correct goods.

Believe it or not, Pinterest is quickly becoming one of the most popular shopping sites, and this new feature has the potential to be extremely profitable.

All you need are some unique everyday photographs of your outfits and blue links to the clothing you are wearing. You will receive a commission if someone clicks on the link and purchases this item.

Always be clear and honest with your Pinterest followers regarding the use of affiliate links.

4. Collaborate with a Brand
All of the well-known and rising business owners are now on Pinterest, and this may be a fantastic chance for individuals to collaborate and earn money. Collaboration with a brand does not always entail the presence of affiliate links.

If you have spent some time establishing your Pinterest account, gaining followers, and developing a specialty, chances are you will be approached by brands looking for partners.

This can benefit both sides because you can promote a brand on your account and be compensated for it. You will also build more contacts and get more followers.

Companies understand the value of a solid recommendation and are ready to pay a premium for a fantastic marketing opportunity.

5. Make a Brand Board
You may build boards for specific brands in addition to partnering up and promoting them. Because boards are an important element of Pinterest marketing, you may learn how to make the most intriguing ones.

Companies will be eager to pay for your curation board abilities after you have a sizable following. This might be a fascinating enterprise, with several clients bringing in a substantial amount of money over time.

6. Educate Others
People will be ready to learn from you if you follow our recommendations and build your Pinterest account. Mastering marketing abilities is not a simple process, which is why if you would like to share your knowledge with others, many people will enroll in your programs to learn all the ins and outs of the business.

So, in addition to previously listed methods of generating money on Pinterest, you can now add teaching to the mix. This may be accomplished in a variety of methods, including online classes, seminars, and blogs.
Pro Tips to Gain Pinterest Followers
Because most business tactics rely on the number of followers you have, here are some pointers on how to increase yours:

Constantly create pins that are unusual and one-of-a-kind;
Use third-party apps to schedule postings;
Use group boards, but do not forget about personal boards;
Research a popular niche and investigate your options;
Obey all rules and community guidelines;
Retweet and follow other pinners to increase the number of followers organically;
Use all popular social media and connect your accounts;
This will give you a robust and healthy profile. While it may take some time to gain popularity on such a large platform, the effort is well worth it in the end.

Last Thoughts
Pinterest has gone a long way since its inception, and while it was once meant to be a visual social networking platform, it has evolved into much more. Pinterest is where people go for all of their key searches, inspiration, purchasing, and significant choices.

As a result, the platform has evolved into one of the finest locations to advertise your content, business, and potentially make some real money.
It does not matter if you have a blog or not; we now know that generating money on Pinterest is doable, and you can get started right immediately. It may take some time to learn all of the techniques and tips, but with our comprehensive guide, you are already one step ahead of the competition.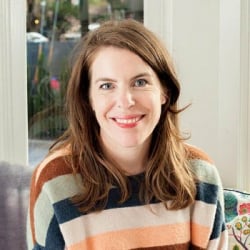 Latest posts by Maddie Schultz
(see all)