Have you heard of Pinterest Lens before? The popular social media platform has recently released a new tool that allows its users to use pictures of items to find related pins, inspiration, products, and get a wide range of suggestions. Image searches have never been as much easier, and this feature is so straightforward to use. If this is the first time you hear about Lens, in this article, you can learn how to use it, how it can be beneficial to your digital marketing strategy as a business owner, and how the visual search engines work.
How Does A Visual Search Engine Understand Images?
Has it ever happened to you to see the perfect pair of ripped jeans in a picture online, but you simply can't find who makes them and where you can buy them? Thanks to Pinterest's visual search systems, you can simply upload the photo, and you'll get multiple similar suggestions to shop from. If you're in luck, you'll even find the exact model of the ripped jeans, so you'll have a brand-new pair to wear within days.
You can do the exact same thing if you have ingredients at home, but you lack a recipe idea. Open Lens, take a picture, and the platform will deliver!
With its latest visual search innovations, Pinterest is trying to get closer to other apps and ensure that its active users find what they're looking for, including inspiration, ideas, goods, etc. After each search, the user gets many suggestions in the form of pins that are time-saving and helpful. But, how does it find what you're looking for?
When you capture a picture with Lens, the search algorithm divides it into sections, then analyzes each one. It looks closely into various features of the pictured item, including size, color, shape, category, etc. Pinterest's visual systems can search through billions of photos, so they use these filters to determine the object type, then find similar suggestions.
How To Use The Pinterest Lens?
Last summer, when Pinterest launched its new visual search tool named Lens, everyone wondered what this feature would do and how it could improve the user experience. Now that you know the Lens exists, how do you use it? When you want to search by taking a picture, all you need to do is to follow these steps:
First of all, make sure that you have the Pinterest app downloaded on your phone and that it's up-to-date.
The next step is to check whether this platform has access to your camera roll.
Open the app on your phone.
Tap on the Search button located at the bottom of the screen.
Find the Search bar in the top part of the screen. On the right-hand side of the bar, you'll see a camera icon, tap on it.
When you do, your camera will open. If you haven't given Pinterest access to your camera roll, the app will ask for access. You can provide it with access to all your photos, select photos, or deny access.
Next, find the objects you want to do a camera search for. Then, you can zoom in or out so that you can capture the items you need.
Tap on the capture button and wait for the results.
Scroll through the results to find fresh ideas.
Lens is one of the most beneficial Pinterest features, with a broad use that can help you boost the essential metrics. However, it's important for users to know that the pictures they take with Lens won't be saved in their gallery. Thankfully, Pinterest gives you the option to turn them into pins and also use your existing photos to create pins.
If your goal is Pinterest growth, you should get excited about shoppable pins. These product pins are a part of the Lens feature, and they include direct links to the products or services you're selling. So, if you own a business, you should look into Lens closely and start making all your pins shoppable.
The digital advertising market is expected to reach a value of over $460 million by the end of the year. So if you run your business on social media, this is something you should focus on. Pinterest is the best spot for visual promotion and a great way for customers to build a relationship with brands.
Helpful Tips For Getting Better Results
If you've been struggling with this feature, and you're not exactly sure why your visual searches don't yield results, we have a few valuable tips for you.
When you turn on the camera, try to hold your hands as steady as possible. Moving too much might make it very difficult for the tool to detect an item and suggest an inspiration.
Don't forget to focus on objects. Finding what you're looking for is much easier when you focus your camera on specific objects. If you're doing a camera search, you want to capture clear objects, so focusing is the best way to go.
Wipe your camera. Sometimes when you open your camera, the photo quality is so bad. Check if your camera is clean and if not, wipe it down.
Turn the flashlight on your camera to capture pictures when it's dark.
Conclusion
Pinterest's visual search technology just got better thanks to its Lens feature. So next time you want to search by taking a picture, just open your Pinterest app, and you'll get the best suggestions ever. This tool is so straightforward to use that every person can follow the simple guide we have listed above.
Aside from being a search tool, Lens can be a powerful selling feature for business owners. The platform allows you to create pins that are shoppable and contain links to your products. Then, when a user searches for that product or a similar one, Lens will suggest yours, and once they tap on the link, it will take them straight to your shop. So now that you have learned how to use the tool to your advantage, visit Pinterest and start searching.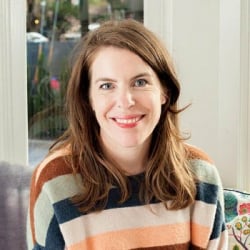 Latest posts by Maddie Schultz
(see all)