Diverting traffic of potential clients to businesses' websites has always been Pinterest's stronger quality. Pinterest captures users with visual pins, boards, and videos that users are compelled to click through to your business's website. Once your potential clients are "lured" to your website by Pinterest, you are not too far away from making a sale or two.
With pins as the main way of converting Pinterest users into your customers, you must learn to post pins efficiently to your Pinterest business account. If you have been on the Pinterest image-sharing platform and do not yet know how to upload multiple photos to Pinterest, stick around.
Is It Possible to Add Multiple Pictures on Pinterest?
Yes, definitely. And it is quite easy, too. Thanks to a recent update, Pinterest now allows you to upload multiple images to a pin you create. As long as you are on a Pinterest business account, pins, idea pins, and Pinterest boards you create can upload more than one image at a time.
After creating a Pinterest Business account, follow these simple steps to upload pictures using a desktop computer:
Open Pinterest and log in to your Pinterest business account on a browser.
Go to your Business account's Home Feed by clicking on your Profile Picture in the screen's upper-right corner.
Once there, click on the 'Saved' tab just beneath the 'Share' and 'Edit Profile' tabs.
This displays the + 'Create' icon at the bottom-right corner just beneath the 'Saved' tab.
Click + to create a pin, an idea pin, or a board.
Click on the upwards arrow on the subsequent pin builder page to browse and upload pictures from your desktop computer's file folders.
After naming and adding a description to your pin, click 'Publish.'
How to Post Multiple Pictures on Pinterest Straight from the Internet?
You can publish pins and boards straight from the Internet. Follow these steps:
Click the + 'Create' icon to upload a pin or board.
Click on the 'Save from site' tab option to upload pictures from a website. Just make sure to copy the page's URL and paste it to the subsequent 'Enter website' textbox and click >.
Tick the check boxes of the images you want to include in your board or pin.
Name your Pinterest board or pin and add a description. Click 'Publish' afterward to save and upload the Pinterest pin or board.
What Is Bulk Pinner?
The Bulk Pinner is a complicated and thankfully now extinct feature of Pinterest that enabled users to upload multiple pics and videos at once. It was not user-friendly and even involved users submitting .csv files (comma-separated values) on a spreadsheet to Pinterest for approval.
Not all users were allowed access to this feature, either! Only Pinterest-approved video creators were lent this feature, and it involved a whole lot of complicated steps to complete. Compared to Pinterest's current multiple uploading feature, bulk pinning was too much of a hassle if all you wanted to do was to upload multiple photos to Pinterest in an instant. Thankfully, Pinterest has redefined how any user on a business account can easily upload pictures and videos to their business's Pinterest.
How to Apply the Bulk Function to Upload Several Images to Pinterest?
The Bulk function was, at the very least, useful in the days when multiple image uploads were not yet the norm on Pinterest. Unfortunately, compared to the new simple and user-friendly uploading feature, the extinct bulk pinning function looks like an archaic and tedious process Pinterest users had to go through.
Thankfully, Pinterest regularly updates itself for a better user experience, and we will never be bothered by bulk pinning again. But for discussion's sake, let us look back on what a bothersome process one had to go through when bulk pinning on Pinterest.
These are the steps you had to go through for bulk pinning:
Create a .csv spreadsheet file of all the image or video files you wish to upload to Pinterest.
Open the 'Settings' of your Pinterest business account.
Click on the 'Bulk Create Pins' option.
Upload the .csv file in the subsequent text box.
Wait a few hours to a few days for Pinterest's e-mail reply to confirm the upload. You may also be denied an upload if the images you submitted need some revisions.
Are There any Other Ways to Upload Multiple Images to Pinterest at Once?
Aside from the default way of uploading multiple pictures, there were a few other ways you can upload multiple images to Pinterest. There were mainly two other ways to do the job; one includes a third-party site Called Circle Bloom Publish, and the other involves the use of the Pinterest Ad Manager.
Circle Bloom Publish required you to create an account under them and was not free to use. Though social media managing was made easier through their scheduled multiple-platform social media-posting feature, it was not as easy as multiple-posting on Pinterest today. The Pinterest Ad manager was the forerunner to the current Pinterest Advertising and was quite unnecessary to run if all you wanted to do was just upload simple pins and boards without starting an ad campaign.
Ad Manager and Circle Bloom were a bit of a hassle compared to the current way to upload photos.
Conclusion
Thanks to a Pinterest development team that constantly creates and update features that are more convenient for its users, Pinterest business account owners can now upload multiple pictures and videos with just a click, a drag, and a drop.
Now, Pinterest isn't just good at getting people to visit your site, it has also gotten a whole lot easier to use. Make good use of this knowledge and post pins not just for your business but to inspire Pinterest users to pursue their interests and passions.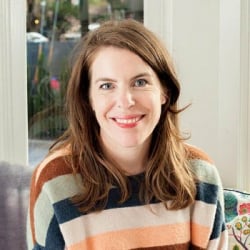 Latest posts by Maddie Schultz
(see all)