If we asked you to make a list of your top three social media platforms, Pinterest probably wouldn't make the cut. You might even ask, "is Pinterest considered social media?" However, this platform is a social media giant you should look out for.
Pinterest started as a photo-sharing platform in 2010. This platform allows users to sort through visual content such as images and videos and pin their favorites on a virtual bulletin board.
Since its inception, Pinterest has grown into a dynamic visual search engine, and now, it is the 14th biggest social media platform worldwide.
The best part about Pinterest evolution is the algorithm upgrade. Its algorithm evolved from simply recommending visual content based on user preference to utilizing search engine optimization (SEO) to help influencers, content creators, and brands grow their businesses.
So, how do you use Pinterest to increase your online visibility? Is Pinterest social media marketing even possible? Let us tell you all about it.
What Makes Pinterest Valuable to Businesses?
You might think that only women use Pinterest, but that cannot be further from the truth. Well, at some point, it was, but men and younger people are now getting on the platform.
According to recent research, over 95% of Pinterest users perform product research on Pinterest, and about 90% of them actually purchase the item they researched.
Therefore, it is safe to say that the digital marketing potential of Pinterest is higher than most social networks. Here are some reasons why you should consider Pinterest for your eCommerce business.
Pinterest Posts Have a Longer Lifespan
When people post content on social media websites, that post has a duration before it is no longer relevant or attracts traffic.
This duration varies; however, traffic and sales leads from Pinterest generally last longer than from a post made on other social networking sites.
For example, your post's lifespan would be about a few hours without opting for paid advertising on platforms like Facebook and Twitter. Conversely, you can still get leads and traffic from Pinterest after a month or more.
Pinterest Increases Website Traffic
After uploading products to your online store, you next need traffic on your website. To increase your traffic, you need a top-notch social media marketing strategy to reach your target audience. Pinterest is an incredible option for this.
On Pinterest, you can post your images and have users pin them. These pinned images are easy to access, and others would be eager to pin them on their boards as well.
As people find and pin these images, their followers would follow suit, thereby increasing the pin's visibility.
Every Pin Is an Inbound Link
SEO is an integral part of gaining visibility, and one way to achieve this is through links.
Inbound links help search engines, such as Bing and Google, decide which content is valuable and which isn't. Hence, each pin works to boost your website so it can rank higher on a Search Engine Results Page (SERP).
In addition, since each pin is also an inbound link, Pinterest users can easily visit your site and purchase a product or service.
Pinterest Analytics
Pinterest Analytics is a fantastic tool you can utilize to study user engagement. Using this tool, you can see which demographics engage with your content.
This way, you can know if you are posting engaging content. With this knowledge, you can create a social media strategy to help boost user growth, thereby promoting your business.
Some Tips to Help Your Content Get Discovered on Pinterest
If you already have a business account on Pinterest or are looking to open one, you need to increase your visibility. For this to happen, your content needs to reach the masses. Here are some tips on how to do that.
Use Quality Content
First and foremost, you need to pay attention to the quality of content on your Pinterest business account. This does not only mean focusing on creating valuable content. You should also focus on sharing quality content as well.
Recently, Pinterest released a few guidelines to limit certain pinning features. These guidelines include:
New pins supersede reused content – This means that fresh pins like images and videos never used on Pinterest have more value than content you repurpose.
Limit re-pins with related content to 10 Boards at most. Also, there is a two-day wait period before you can re-pin content.
The goal of these guidelines is to reduce the number of spam content. Therefore, sharing and posting quality content will help you get discovered on Pinterest.
Take Care of Keyword Research
Pinterest is no longer just a platform to get design inspiration. People now use this platform's content to decide what their next purchase would be. To do this, they use certain keywords and phrases to get accurate results.
Hence, it is vital that you know what keywords and terms associate with your brand and products so that you can input them into your content. With these keywords in place, your target audience can easily find your business, leading to visibility growth.
Utilize Rich Pins
Rich Pins are another SEO-powered feature on Pinterest. Most people use this feature to create brand awareness. Rich Pins use code to get metadata (extra information) from websites linked to them.
This means you can use Rich Pins to add context to all your posts. In addition, you can use Rich Pins to provide Pinterest users with helpful information regarding your products or services.
There are three types of rRch Pins you can use for your business. Each type of Pin works to support a specific kind of content. Here are the types of Rich Pins:
Product Pins: These Pins offer the latest information about your product, its availability, and price in real-time.
Recipe Pins: These Pins provide ingredients, cook time, serving sizes, and all other cooking information found on your website.
Article Pins: These Pins link with blog content on your website. The Pins show headlines, story descriptions, and author names.
Most brands opt for Product and Article Pins because they offer the most value for their businesses.
Generally, Rich Pins are beneficial because they provide more information for your audience and ensure you post valuable content on Pinterest. You can easily access Rich Pins within a few days after applying.
Optimize Your Content
We cannot stress how vital SEO and keywords are to your business on Pinterest. Earlier, we mentioned keyword research and how you need it to reach your audience.
After deciding your SEO keywords, you need to include them throughout your Pinterest business account and content.
When optimizing your business and content for SEO, you should include your keywords in several places. These places are:
Your Pin descriptions and names
Your Pinterest Profile (This includes your account name and "About" section)
Your Board description and names
If you use the right keywords and inject them into the places mentioned above, you can boost your website traffic and visibility using Pinterest.
Final Thoughts
Businesses can find great success in both local and international markets using Pinterest. The best way to achieve this success is to create quality content consistently and frequently.
Pinterest is filled with passionate and engaged users. Thus, it would be best to generate a board showcasing what your brand is about, from inspirations and ideas to aesthetics.
If you stick to posting valuable content regularly, and use a reliable marketing agency to achieve Pinterest growth, you are bound to reach your target audience, who, in turn, will buy and share your products or services.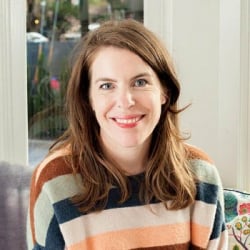 Latest posts by Maddie Schultz
(see all)