If you're a business owner, blogger, or YouTuber with lots of pictures to share on Pinterest, there's a new way to make them stand out among the rest.

Pinterest rich pins are little pieces of code that live in your website code. When someone pins an image from your site, it will automatically create a pin with call-to-action that uses Pinterest's data to link where they can find or buy an item. Users can also pin from a Pinterest page with rich pins on it.

This means anyone who gets to that person's profile page will see the rich pins as well. It's an excellent way to get your Pinterest followers back to your website and look at your other content and sales.

The result is an easy way for businesses to drive more traffic back to their websites and bloggers and YouTubers who rely on eye-catching images to grow their audiences.

This article will answer the question, what is a rich pin on Pinterest? And how to use them effectively.

What Is Pinterest Rich Pin?
The Pinterest rich pins offer more information about the pin and its corresponding web page. While this was not immediately apparent to all Pinterest users, these enhanced pins are becoming increasingly popular among pinners and site owners who see the benefits of this type of data.

Pinterest rich pins are designed to give the user a compelling description of the pin they view. Some examples of this enhanced data include the product price, rating, reviews, and expiration dates.

Rich pins also have visual cues that differentiate them from regular Pins. Only certain products can use this feature, including movies, recipes, articles/media, places, and products for sale. Pinterest will likely add more categories to this list; however, there has been no official word on what types of pins might come next.

On the other hand, users will see more valuable data about pinned products that they might have otherwise not known. Also, seeing this extra information should help build trust between the user and the website they visit – assuming that you implemented the Rich Pin correctly.

For example, using ratings in an online store would build trust because it encourages customers to weigh what others think over their personal opinion. This may bias them towards liking or disliking something based only on an individual interpretation. This additional information could also be beneficial in the buying process, helping users make their decisions faster and easier.

Types of Rich Pins
There are different Pinterest rich pins available at your disposal. Each one includes unique features that you may find helpful when using them. We're going to discuss each of these below. All of these types of pins have the potential to get your pin clicked onto by more people.

Product Rich Pins

Product pins are designed to display products on Pinterest. To begin with, they look exactly like a regular pin. However, people will arrive at a second page to learn about the product and purchase it after clicking on them.

You should make sure that your product page contains all relevant information, including price, availability, and contact details. Clicking on the product card will take visitors directly to the product page.

Recipe Rich Pins
If you are a food blogger, these pins are a must-have. Recipe pins are similar to product pins, but instead of showing a specific product related to food, they focus on recipes and cooking times and methods. It's best to keep these pins focused on the main dish because you don't want people getting distracted.

They look the same as regular Pins, but people can read through the step-by-step instructions and buy ingredients from Amazon after visiting the recipe page.

Events Rich Pins
Events pins are ideal for business accounts owners looking to advertise upcoming events. These posts are generally created before an event takes place and updated afterward. People interested in attending an event will then be directed straight to the event website if they click on the pin.

Special Offers Rich Pins
Retailers use these pins to highlight special offers to reach a wider audience. After clicking on the pin, customers will automatically be taken to the offer page. If necessary, the retailer will also provide promotional content explaining what the deal entails. For example, a clothing retailer might post a new collection photo and write something like: "Shop now for 20% off!".

Video Rich Pins
Video rich pins are identical to regular pins but with a video attached. This is a great way for visual content creators to promote videos on their websites and get people interested in subscribing to their channels. They can even include call-to-action buttons that direct people to the video or purchase an item.

App Rich Pins
App pins are perfect if you want to show reviews of apps instead of visual media. They look just like ordinary pins but click on them, and people will be taken to a review page where they can comment on the app and view screenshots. You can include direct links to iTunes and Google Play Store so that people can easily download and install the application.

Article Rich Pins
If you have information on your website relevant to a Pinterest user, you can create an article pin. Article pins display a thumbnail image and the call-to-action button with your content or blog posts. If the user clicks that, they will be taken to the original article.

Place rich pins
Businesses looking to give vital information to tourists or travelers can achieve that with Place rich pins.

This rich pin is aesthetically attractive and intended to assist users in discovering new locations to visit in their city or while abroad. A map, location, and phone number are all included. They're handy for vacation and travel destination websites, but people use them for various creative purposes, including pinning their favorite places.

Why Use Rich Pins?
Rich pins are an excellent way for business owners and content creators to draw users to their websites. Visitors can get more information and hopefully purchase items there. Rich pins are an excellent way to showcase your products in an eye-catching manner on Pinterest in a social media marketing world.

Not only that, it's an easy way to make products look more appealing to readers and viewers. For example: if you have an Amazon page for that product, you can add the rich pin if you want. It will take the place of the photo Pin on Pinterest and make it look richer with its description and links. This is why some large brands like the Huffington Post have already started using it.

If you're not a blogger or business, you can see rich pins in action on Pinterest's Facebook page. If you have pins on your site, give them a try to see how they look and what kind of feedback you get from people who visit your page.

Rich pins are handy for eCommerce sites looking to boost conversions, organic traffic, and sales.

With rich pins, you have more control over the types of pins that appear when somebody hovers over your image. As a result, you can tailor each one to suit your business needs.
Try creating different sets of rich pins based on whether your target audience likes cats or dogs to generate even better results. Or perhaps you could create unique pins depending on the season. The possibilities are endless.

How to Set Up Rich Pins on Pinterest?
Setting up rich pins is pretty straightforward. You'd want to start by installing the Yoast SEO plugin if you use WordPress for your site management. Usually, Pinterest will require specific meta tags on your website to get rich pins running. The Yoast SEO plugin makes all of these available for you.

Step 1: Install the Yoast SEO Plugin
The first thing you have to do is install and activate the Yoast SEO plugin. The quickest way to do this is by installing the plugin directly from your WordPress dashboard. In your Plugins menu, search for 'Yoast SEO' and activate it.

Once you've done this, go to your Yoast SEO settings page, select the General tab and scroll down to 'Facebook open graph metadata". Please fill out this information correctly so that search engines can recognize your content correctly when you share it on social media.

Step 2: Validate and Apply
Now you have the correct metadata for rich pins to work.

Next up is validating your and activating your rich pins. You'd want to visit Rich Pin Validator to do this. Enter a valid URL to one of the blog posts on your site and hit "Validate."

You should get the green check and 'Your Pin's have been validated!' notification.

Then you can hit "Apply Now." Remember, your blog may be approved right away. However, sometimes Pinterest may take a couple of days to process your application.
Step 3: Write a Compelling Description for All Your Posts
Now you have rich pins installed; it's time to take full advantage of this unique feature. The good news is, all images your visitors save from your site will have extra information on the pins. If you are a food blogger using recipe pins, be sure to include vital information in your recipe cards to help pinners get what they want.

Taking advantage of the description space is good for audience retention and engagement. However, you'd want to focus your title and description on what would prompt your visitors to take action.

Final Words

Pinterest has enormous potential to enhance your business marketing strategy. Most online users spend their time browsing through images on various social networking platforms, including Pinterest. So, if you haven't yet set up rich pins on your website, now's the perfect opportunity to get ahead of the game. Once you've learned how to create a pin, you are on your way to increasing your Pinterest followers and awareness for your brand.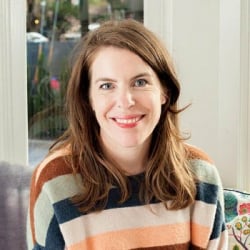 Latest posts by Maddie Schultz
(see all)