Pinterest is one of the most powerful social media platforms that's much more than just an image-sharing network. It rose to fame thanks to the power of its image search feature that comes very close to the Google image search but keeps getting popularity because of the business opportunities that it creates for users.
Currently, the platform has over 454 monthly active users and is one of the most diverse audiences for your growth. If you're a new user, and you're not sure how to find someone on Pinterest by email address, read our latest guide. We also included other methods to help you find familiar faces and users interested in your content, products, or services.
How to Find Someone on Pinterest by Email Address?
Finding someone on Pinterest is so easy if you know a person's email address. When you're trying to grow your presence on this social media network, you can dip in your email contacts and business emails and reach out to those already on Pinterest.
Finding the right people will make it even easier to find the best boards on Pinterest, become a member, learn from the competition, and expose your business to a broader audience. Great Pinterest boards (together with keywords) are an essential factor for search engine optimization, but it all starts from finding and following the right users. Here's how to find friends on Pinterest step-by-step:
Open the Pinterest app, or access Pinterest on your preferred web browser.
Tap on the search bar located in the top part of the screen. This is the same bar where you search for popular keywords, pins from people, and personal profiles by username.
Once you enter the individual email address, press Enter.
On the side of the bar, there is a drop-down menu where you should select People.
If the person associated with the email has a Pinterest profile, you'll see their profile picture pop up on your screen.
To access their profile, just click or tap on the name.
Once you do, you can click the Follow button, get in touch, invite them to group boards, and increase your engagement with users.
A fast way to find various social media profiles on Pinterest is by adapting your privacy settings and giving the Pinterest app access to your contacts. You can do this via the Settings menu on your phone, and the next time you access Pinterest, the app will allow you to follow all the contacts or choose individuals.
Another route to take is via direct messages. When you access the messages icon in the bottom part of your screen on the app or the top right corner on your desktop, you can search people by name or email address and send them a message.
Other Methods to Easily Find Someone on Pinterest
Username
A person's username is another quick way to find someone if you don't know their email. You can do it via desktop or mobile devices (iPhone or Android device), and it only takes a few seconds. Here's how to find people on Pinterest:
Mobile
Open the Pinterest app.
Tap on the search icon in the bottom part of your screen that looks like a magnifying glass.
Type in the username.
There is an advanced search button in the top right part of the screen, tap on it and choose People.
You'll see a list of profiles that match the username.
Desktop
Open Pinterest on your web browser.
Click on the search bar on the top part of the screen.
Type in the username of the person you're looking for. Use the search filter on the right side of the bar for advanced search by choosing People from the drop-down menu.
Pinterest will show you a list of users to choose from.
Facebook
If you're a content creator, one of the smartest things you can do is use various social platforms to grow your brand. That's why liking Facebook to Pinterest should be high on your list. The synchronization of the two platforms will also help you search Pinterest users via Facebook, just follow these steps:
Open the Pinterest app.
Tap on the profile icon in the bottom right corner.
Next, tap on the three-dot icon in the top right corner, then choose Settings.
Find the Account Settings, then Login Options.
There will be a toggle bar right next to Facebook, make sure that you tap on it, so that it's on.
Pinterest will ask you to allow access to your Facebook profile. Tap Continue.
By linking the two profiles all your Facebook friends that have linked Facebook and Pinterest accounts will appear during your Pinterest search. All you have to do is type in their Facebook name in the Pinterest search bar. If you want to know how to follow someone on pinterest follow this guide.
Conclusion
Pinterest is one of the best social networks to help you build your email list and for email marketing. As you can tell from the guides, searching people via their email, username, and the Facebook name is straightforward and takes only a few minutes. Next, tapping the Follow button will help you engage more, become a member of great boards, become a collaborator, and expose your brand to new audiences. The final step of your journey is employing an excellent Pinterest growth service and watching your numbers and sales grow by the day.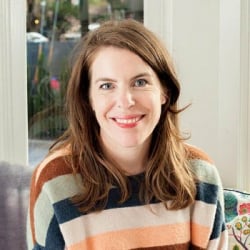 Latest posts by Maddie Schultz
(see all)