You've probably encountered collections entitled 'Mood Board' on Pinterest. Here's a short explanation of what they are and why you need to have one, too.
We'll also help guide you on how to create a mood board on Pinterest. It's really easy.
Ready to dominate Pinterest with a thriving presence? Boost your followers with our Pinterest growth solutions – the perfect way to enhance your social media impact!
Why Do You Need a Mood Board on Pinterest?
Mood boards can be a visual representation of a brand. With just a collection of images, the audience will know your brand's aesthetics and personality.
It can also serve as an inspiration board for future projects. It helps the viewer get an idea of the design direction you want to achieve.
How to Make a Mood Board on Pinterest
Creating a mood board is basically similar to creating a board on the platform. The difference is that your mood board will be populated by pins that you like and those that inspire you.
The board can have items that you love but will not necessarily buy or create. It will simply be filled with ideas that you and your audience will love.
The mood board can have themes or, as the name suggests, moods. Fill it with pins for visual inspiration.
Using a computer
On a web browser, log in to your Pinterest account.
Click your profile photo in the upper right corner of the screen.
Click the plus icon in the Boards section of your profile page.
From the drop-down menu titled Create, select 'Board.'
On the 'Create Board' window, enter a name for your Mood Board. You can check the box to "Keep this board secret" to prevent other people from seeing your board until it is done. Then hit the 'Create' button.
Pinterest will suggest some Pins that you can add to your mood board. Click the Save button on any pin that matches the mood you are looking for. If you don't see any pins you like from the suggestion window, simply hit the 'Done' button.
Once you're inside your new mood board, click the 'More ideas' icon (sparkles icon). This will show you more pins to add to your board.
You can search for more pins using keywords. Enter the words in the Pinterest search box at the top of the screen. Make sure to select 'All Pins' beside the search box and hit enter on your keyboard to generate results containing all the site's pins.
Add ideas to your mood board by hovering over a pin, and then click the downward arrow on it. Next, hover over your mood board and then hit the 'Save' Button beside the board title to save the pin that you like.
Transform your Pinterest boards into a follower magnet – visit our website and start driving more engagement and growth with our Pinterest success secrets today!
Using a mobile device (Android and iOS)
Launch the Pinterest mobile app on your device and log in to your account.
Tap the plus icon located at the bottom of your screen.
Select 'Board' from the pop-up window.
Enter a Board name on the next screen. Toggle the switch to keep the board secret from other users. Tap the 'Next' button on the top right of the screen.
Once back in the main home feed, you can start adding pins to your mood board. Browse through ideas and add the ones that fit by long-pressing the pin, then dragging your finger to the Pin icon.
Select your mood board from the list to save the pin there.
How to Create a Mood Board for Your Brand Using Pinterest
A mood board is the visual identity of your brand. So, you want to create a board that best represents your brand combined with the ideas that would please and inspire your target audience.
Start a mood board for your brand by following these guidelines:
Scout the competition
Knowledge is power, as they say. So, it's important to know what other brands in your niche are using to reach their audience. If they are effectively reaching their target people, then be ready to take down notes.
Identify what media or style they use to get more Pinterest followers. Notice what color palettes, fonts, and imagery they employ.
Now that you have an idea of how other brands look, it's up to you if you want to follow the pattern, build a better one based on it, or completely create your own look.
Create your brand identity
How would you like to be seen by your chosen audience? Select elements that would best describe your brand's persona.
Define your target audience
Another crucial step in creating a mood board for your brand is to identify your target audience. Create a clear persona of the type of person/s you want to attract.
For example, if your brand sells products or services that are a bit pricey, then your target demographic is the people who can afford them. Probably those aged 24 and up who have a good-paying job. Then identify what they want.
Identify keywords
List down the words your customers are searching for on Pinterest. These are the things that interest them. As a brand, it is your job to give the people what they want.
The best way to be relevant to your audience is by catering to what they want and what they need. So, looking at their search queries will give you an idea of what you can offer them.
Now, use relevant keywords from your research to look for ideas and images to include in your brand's mood board.
How to Create a Mood Board for Website Design
When creating a mood board for your site, you have to decide what theme or experience you want. Then, choose elements that will evoke that emotion and experience.
Identify what kind of emotions you want to evoke in your page viewers. If you want them to feel happy, use bright colors, sans serif fonts, and energetic images to convey that emotion.
If you want them to have a relaxing experience (ideal for spa, health, and wellness brands), use neutral colors and flowy fonts that are easy on the eyes. Include photos of what they will experience with your brand – rejuvenating massages, healthy food, etc.).
Other Tips for Creating a Mood Board on Pinterest
Research which color schemes are perfect for the emotion that you want to evoke in your viewers.
Don't be afraid to add tons of Pins to your board. Just narrow it down afterward by grouping like-themed ideas and keeping only those that really stand out.
Pin! Pin! Pin!
In Summary
Your Pinterest moodboard will help your audience get to know your brand's aesthetics and goals through this visual representation.
Create a beautiful mood board to gather more followers on Pinterest!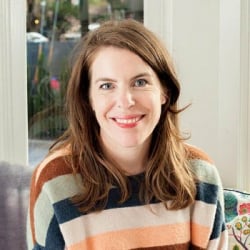 Latest posts by Maddie Schultz
(see all)