Often, people wonder what the best time to post on Pinterest is. The answer to this question depends on several factors, including your time zone, your target audience, and the type of content you're sharing.
That said, you can follow some general guidelines to ensure you're maximizing your chances of being seen by others. If that's why you are here, you are in the right place. This comprehensive guide will tell you everything you need to know about the best time to post on Pinterest.
We will cover the following topics:
When is the best time to post on Pinterest?
What are the peak times for posting on Pinterest?
How often should you be posting on Pinterest?
What are the best practices for posting on Pinterest?
By the end, you will clearly understand when and how often you should share your content on this popular social media platform.
Let's get started!
Why Is It Important to Find the Right Time for Posting?
As a business owner, you're always looking for new ways to reach potential customers and grow your brand. With over 431 million monthly active users, Pinterest is a platform that you can't afford to ignore.
While it's true that the majority of Pinterest users are women, the site is still a powerful marketing tool for businesses of all types. And with its visual format, Pinterest is especially well-suited for promoting products and services.
Every Pinterest user knows the platform is full of beautiful images and interesting ideas. But many users don't realize there is an optimal time for posting on Pinterest.
Posting at the wrong time can result in your pins getting lost in the shuffle, but posting at the right time can help you to reach a wider audience and get more engagement.
So why is it important to find the right time for posting on Pinterest? Well, it lies in the patterns of usage. Most users log onto Pinterest during their lunch breaks or in the evening, which is typically when new content is most likely to be seen.
If you want your pins to stand out, timing is everything. Post during off-peak hours or on weekends, when users are more likely to scroll through their feeds.
Depending on their audience and goals, different businesses will find times more effective. This may also imply posting at different times of the day.
That's why it's crucial to determine when your target audience will most likely be on Pinterest. The more you know about when people use Pinterest, the more likely you'll be able to successfully build a following for your brand.
However, there are a few general tips that can help you figure out when to post on Pinterest for maximum impact:
Consider when your target audience will most likely be online. For example, weekday evenings and weekends will probably be your best bet if you're targeting working moms.
Look at your analytics to see when your pins tend to get the most engagement.
Experiment a bit and see what works best for you!
There's no magic formula for success on Pinterest, but paying attention to these factors will help you increase your chances of success.
How Often Should You Post on Pinterest?
One of the best things about Pinterest is that it allows you to share new content (and repin it for others). As a result, you don't need to wait until you've amassed many followers before you start posting regularly.
For a business owner, you'll want to ensure you're posting frequently enough to maximize your visibility but not so frequently that your audience gets overwhelmed.
A good rule of thumb is to post 4-10 times per day, although more or less may be necessary depending on the size of your audience and the amount of content you have to share. And, of course, if you're simply sharing your pins, you can probably get away with posting less often.
So how often should you post on Pinterest? The response is: as often as necessary to maintain a strong presence without bombarding your followers with too much content.
Is There a Daily Pin Limit on Pinterest?
No, there is no daily pin limit on Pinterest. You can pin as much or as little as you want. However, there are a few things to remember when it comes to pinning:
Try not to spam your followers with too many pins in a short period. This can be overwhelming and may cause them to unfollow you.
Ensure that the pins you share are high-quality and relevant to your brand. Pins that are poorly made or irrelevant will only hurt your reputation.
Don't be afraid to mix things up!
Various content will keep your followers engaged and coming back for more. So go ahead and pin away! Just don't go overboard.
What Is the Best Time to Pin on Pinterest?
A common misconception is that the best time to pin on Pinterest is immediately after making a new post. In fact, this isn't the most effective way to promote your content, especially since people will be more active in their feeds and less likely to see your pins at that time.
But as mentioned earlier, there are some things to keep in mind that can help you make the most of this social media platform.
First, consider the time zone of your audience. If most of your followers are in a different time zone than you, consider that when you schedule your pins. 
You'll also want to think about the types of content that perform well at different times of the day. For example, recipes and food-related pins tend to do well in the evening, while fitness and fashion pins do better in the morning or afternoon.
How to Find the Right Time of the Day to Pin?
Now that we know that there is no one-size-fits-all response to the question of when is the best time to pin on Pinterest, how can you figure out when the right time is for you? Here are a few options to consider:
Manual Pinning
One option is to manually pin your content at different times of day and see when you get the most engagement. This method can be time-consuming, but it will give you a good idea of when your audience is most active. You'd want to do this for at least a week or two to get accurate results.
Pinterest Analytics
If you have a business account on Pinterest, you can use the analytics tool to see when your pins get the most engagement. This is a great way to get an idea of when you should be pinning without having to manually pin at different times.
Tailwind
This is a tool that allows you to schedule your pins in advance. It also has a "smart queue" feature that will automatically pin your content at the best times for engagement. This is a great option if you want to save time and ensure that as many people are looking through your pins as possible.
Google Analytics
Finally, you can also use Google Analytics to see when your website gets the most traffic. This can give you an idea of when people are most likely to be on Pinterest and, therefore, when you should share your content.
Whatever method you choose, the important thing is to experiment and find what works best for you.
How to Schedule Posting on Pinterest?
Once you've figured out when the best time to pin is for your audience, it's time to start scheduling your content. Follow these simple steps to get it done:
Step one: Sign into your Pinterest business account.
You cannot schedule pins unless you have a business account. You can easily convert your personal account if you don't have one yet.
Step two: Select Create Pin next to "Business" on the top left side of the screen.
Next, hit "Create Pin" from the drop-down menu.
Step three: Put your Pin details. On the next screen, you'd want to add all relevant information for your Pins, such as the destination URL, the title, and a description. You can add hashtags here if you want.
Finally, choose the board you want the Pin to be added to and if an existing board doesn't fit, create a new one.
Step four: Choose the date and time you want your Pin to go live.
Once you're happy with your Pin, hit the "Post on a later date" on the bottom-right to finalize. Remember, you can only schedule within 2 weeks from the current date.
And that's it! You've now successfully scheduled a pin to be posted at a specific time on Pinterest.
Conclusion
There you have it – a thorough guide on what is the best time to post on Pinterest. As you can see, there is no definitive answer, as the best time will vary depending on your audience and the type of content you're sharing. However, by using analytics and experimenting with different times, you can figure out when the best time to pin is for you and your business. So what are you waiting for? Get started today!
Are you looking for smart ways to grow your blog or business using Pinterest? Please feel free to get in touch with us. We'll be more than happy to lend a helping hand.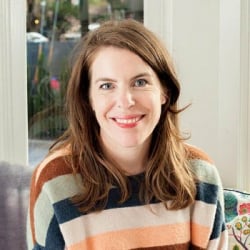 Latest posts by Maddie Schultz
(see all)