If you're a Pinterest enthusiast, you know there's nothing like having your account and creating boards to store your favorite recipes, decorating ideas, and fashion trends. But did you know that you can share an account with family and friends? This article will provide a step-by-step guide on how to share your Pinterest profile and its benefits.
Steps to Share a Pinterest Account
Sharing a Pinterest account is easy. Just follow these simple steps:
Log in to your Pinterest account: The first step is to log in to your Pinterest account. Once you're logged in, click on the Settings link at the top of the page.
Find the Account Sharing option: On the Settings page, scroll down until you find a section called Account Sharing. Click on that link to access the account-sharing settings.
Add an email address: Now it's time to add someone else to your account! Enter their email address into the Invite Someone Else box, and they will receive an invitation to join you on Pinterest.
Set permissions: Once the invitation is sent, you can set specific permissions for that person on your Pinterest account. For instance, you can give them access to your boards or limit them to certain ones. You also can allow them to add new pins or just view existing ones.
Accept and enjoy: The last step is for the invitee to accept the invitation – once they do, you're ready to start pinning together! Share ideas and post updates with your family and friends.
How Can You Share Your Pinterest URL?
You can share your Pinterest URL in a few different ways. Here are some of the most popular methods:
Share on social media: As a business owner, you know that social media is a great way to connect with potential and current customers. You also know that Pinterest is a powerful tool that can help drive traffic to your website. When you post your Pinterest URL on Facebook, Twitter, or Instagram, include a brief message about why someone should follow you on Pinterest. For example, you could say, "For the latest news and updates on our products, follow us on Pinterest!" By sharing your Pinterest URL this way, you can reach a wider audience and boost traffic to your website.
Include it in emails: You can also include your Pinterest URL in any promotional emails you send. This is a great way to boost engagement with customers who have already signed up for your mailing list. Just remember to be brief and to the point so that readers don't get distracted by the message you're trying to convey.
Embed pins: Another way to share your Pinterest URL is by embedding pins on your website or in blog posts. This is a great way to showcase your content on Pinterest and increase engagement with followers and potential customers.
Add a button: You also can add a Follow Us or Pin it! button to your website. This is an eye-catching way to draw attention and remind people of your Pinterest presence.
Add it to your website: You can add your Pinterest URL. This is an effective way to direct visitors to your Pinterest page and encourage them to follow you. You might consider adding a link at the top of your home page or in the footer of each page.
How to Share Your Account with a Pinterest QR Code?
To share your Pinterest account with a QR code, you'll need to create a QR code and include the link to your Pinterest account. Here's how:
Log in to your Pinterest account and click on the Settings link at the top of the page.
Scroll down to the Account Sharing section and click on the Create a QR Code link.
Enter your email address into the box and click the Create QR Code button.
The QR code will be generated; you can print it or save it to your computer.
Include the QR code in your promotional materials. For example, you could add it to your website or include it in an email blast. When someone scans the QR code with their phone, they'll be directed to your Pinterest account.
Conclusion
Sharing your Pinterest account with friends and family is a great way to grow your following, engage with customers, and boost traffic to your website. Whether you share it via social media, email, embed pins, or add a button to your website, including your Pinterest URL will help more people find your content. You can also use QR codes to share your account easily with anyone who scans the code. By taking these steps, you can ensure that everyone knows about your amazing content on Pinterest!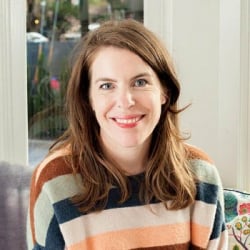 Latest posts by Maddie Schultz
(see all)