These days, it is just commonplace to have multiple Pinterest accounts. Besides having a personal Pinterest account where you have boards that contain ideas and an overabundance of pictures to your liking, you may also have one or two other accounts that are for work or your business.
Should having multiple Pinterest accounts mean having to log out and log in between them? That sounds too tedious and is probably a big hassle. Luckily, Pinterest now has a way to manage your accounts without having to manually switch between accounts by logging out and logging in to whichever account you want access to.
In this short read on multiple Pinterest accounts, you will learn how to set up a second Pinterest account and merge Pinterest accounts for an easier, more manageable time on Pinterest.
Pinterest and What It Has Evolved Into
Pinterest has come a long way since its founding in 2010. In the beginning, Pinterest was just a personal tool that every user had for keeping ideas for later use. Because of its ease of use and simple and tangible approach to image sharing, Pinterest has grown into the most effective business tool one can have today.
Whatever niche your business belongs to, Pinterest will be able to hook you up with your proper audience. Pinterest's algorithm groups together everything that may be of the same interest, so users easily come across pictures they would want to 'save' (formerly pin it buttons) in their Pinterest boards and pins.
If you are on Pinterest as a small business, being grouped in a specific category is the best thing that could happen to you. This makes your visibility to your target audience much more possible.
Is Merging Pinterest Accounts Possible?
Merging multiple accounts into one amalgamated account is not possible on Pinterest. What is possible is having multiple separate functional accounts. Each additional account will require you to use a unique email address, and the number of Pinterest accounts you can use is only limited by the number of email addresses you have.
The convenient thing now about having multiple Pinterest accounts is that you can switch between them through just a click of a mouse button. Just click on the downward-facing arrow in the top right corner of your Pinterest window to reveal a drop-down menu. Here, you can see all your separate accounts. If you want to add more accounts, click 'Add account.' Once you have added accounts aside from your main one, you can log in to multiple Pinterest accounts just through a browser window.
How to Log In to Multiple Pinterest Accounts
Let's have a more in-depth discussion about how to log in to your Multiple Pinterest accounts. This is especially useful if you need to manage multiple Pinterest accounts for personal use, work, and for your business.
Logging in to Pinterest on a browser or the mobile app may be two different things, but are both very simple. Here are steps on how to do both:
A. How to Log In to Multiple Pinterest Accounts on your Desktop
Sign in to Pinterest.
Click Sign Up if you don't have a Pinterest account yet.


Enter your email, password, and age.

Follow on-screen instructions and complete making an account.

To add another account, click on the downward-facing arrow beside your profile picture to reveal a drop-down menu. Choose 'Add account.' Add as many accounts as you may need. You may also convert one of your existing accounts to a Pinterest business account if you wish to. Pinterest marketing is one of the most effective ways to give your business profile the exposure it needs.
Refer to the drop-down menu to reveal all your Pinterest accounts that you want to cycle through and manage.

B. How to Log In to Multiple Pinterest Accounts on the Mobile App
Tap on your profile in the lower right corner.
Tap on the gear icon to access the account settings menu.
Tap the 3 dots and choose 'Switch account' to access your other accounts.
On-screen instructions may vary from android to iOS. You may be asked for login details or may be directed immediately to your other accounts.
Once you are logged on to your multiple accounts, switching between them is just a matter of long-pressing your profile icon to reveal a list of the accounts you would want to switch to.
Managing Multiple Pinterest Accounts is Easier than Ever
With Pinterest's new feature where you can easily switch accounts without logging out and in between them, managing multiple accounts is easier than ever. Whether using Pinterest for personal use or to increase Pinterest followers as business owners, switching accounts makes life a little more convenient.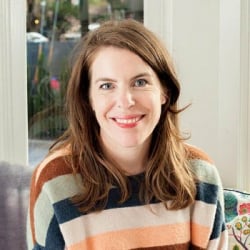 Latest posts by Maddie Schultz
(see all)