By pinning your interests on Pinterest, you are joining one of the internet's largest social media platforms. This amazing network was created to promote individual ideas, one-of-a-kind enterprises, and exceptional innovation.

Many influencers began here and have now are promoting ideas and other material for millions of people. But what if you wish to remain anonymous on the network for any reason? Fortunately, you can hide part or all of your Pinterest activities.

In this comprehensive and easy-to-follow tutorial, we will cover everything you need to know about how to make your Pinterest account private.
Pinterest Privacy
Pinterest was founded on the concept of complete freedom and the capacity to see and share almost anything. However, some users insisted on privacy, therefore the entire concept was re-created.

There are several choices and levels of privacy available on Pinterest nowadays, and we will go through them all. So, if you are looking for a solution to keep your Pinterest profile hidden from search engines, planning a surprise and want to keep at least one board private, or are concerned about your privacy for any other reason, keep reading.

Enable Search Engine Privacy on Pinterest
Google and other search engines have a way of locating even the most hidden places on the internet; fortunately, Pinterest allows users to remain entirely hidden from search engines and exclude Pinterest from google images.
How to Hide Pinterest account from Search Engines?
Hide your profile and personal information from search engines is a straightforward operation that can be completed in a few steps, but bear in mind that results may take some time to appear.

Log in to your Pinterest account;
Locate the down arrow in the upper right corner;
Select "Settings" from the dropdown menu;
Locate privacy and data and click the box to exclude Pinterest profile from search engines.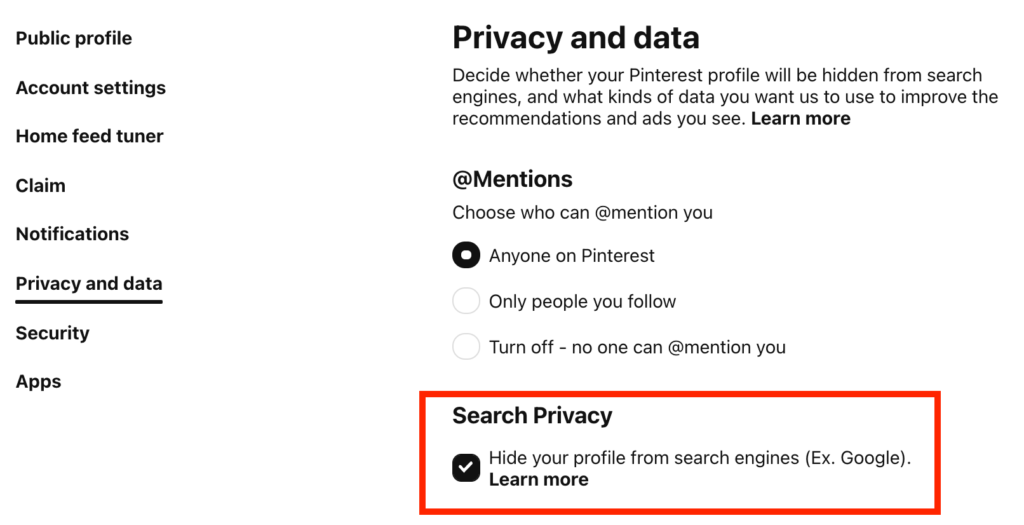 Pinterest Secret Boards
When it comes to privacy, secret Pinterest boards are one of the greatest options. Pinterest users can create and pin images to as many private boards as they wish with this feature. You can share the board with your collaborators even while it is hidden from other users.

This sharing option may be a terrific business idea because the board can become a unique component of your promotion and a tool to build your Pinterest followers. People are typically drawn to the concept of limited edition art, and they want to be among the few who have access to your secret boards.
How to Create Secret Boards on Pinterest?
Log in to your Pinterest account and look for the Plus symbol.
Locate the "Board" option in the dropdown menu.
You may name your new board and then click the box to keep it hidden.
Finally, press the create button.
After successfully creating a private board, you can add content to it and invite collaborators to engage or just view the board.

Remember that you may also make the existing boards public into private ones, and vice versa.
Block and Report Feature on Pinterest
While we can all agree that having a large number of followers on Pinterest and other social networks is fantastic, there are instances when you do not want everyone to view your content.

Fortunately, Pinterest has introduced a method for manually blocking or reporting a specific user on Pinterest. So, if you prefer to avoid certain people or businesses, you can simply block them by heading to their Pinterest page and clicking the block button on the left.

"No Pin" Code for Websites
If you are concerned that the content you have put on your website may be shared on Pinterest without your consent, you may block this option.

You may insert a "no pin" code on your website to prevent your content from being posted on Pinterest.

Simply copy and paste the following code:
meta name="pinterest" content="nopin" />

Final Thoughts
Pinterest, which is currently one of the most popular platforms, provides one-of-a-kind chances for creative individuals all around the world. Pinterest may be a terrific way to promote your content, and by growing your Pinterest profile, you can help your business expand.
If you wish to keep specific things on your Pinterest account private for any reason, you now know various options.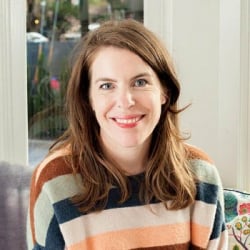 Latest posts by Maddie Schultz
(see all)