When it comes to visual social media networks, Pinterest is one of the most popular options available. With over 150 million monthly active users, the platform allows you to share and discover new images and ideas related to your interests.
However, Pinterest is not the only image-based social media platform available. There are several Pinterest alternatives out there that can provide you with different features and options.
Ever wondered what other image-based apps like Pinterest are out there? We've got you covered.
This blog post will discuss some of the best Pinterest alternatives and why you should try them!
Best Pinterest Alternatives to Use Instead
Pinterest is the virtual equivalent of a bulletin board. It's a platform where you can "pin" images, videos, and other online content that you find interesting or informative. You can also create "boards" on specific topics, which act as a collection of pins on that topic.
For example, you could have a board for recipes, one for travel destinations, and another for fashion inspiration. Pinterest is a great way to organize and share your favorite online content.
And unlike a real bulletin board, you don't have to worry about running out of space!
However, here are some other apps like Pinterest to try out:
FoodGawker
If you're looking for a more dynamic and engaging platform than Pinterest when it comes to food, then you should definitely check out FoodGawker.
For starters, FoodGawker is all about visuals. As you scroll through the site, you'll see beautiful photos of everything from healthy snacks to indulgent desserts.
And unlike Pinterest, where you often have to click through to another site to get the recipe, all recipes on FoodGawker are right there at your fingertips.
Plus, there's a handy search function to find recipes for specific ingredients or occasions easily. So if you're ready to jump into the world of food porn, head over to FoodGawker!
Juxtapost
If you're tired of sifting through endless pins, be sure to check out Juxtapost!
It is a visual bookmarking and discovery site that allows users to create and share collections of images and videos.
What sets Juxtapost apart from other platforms, such as Pinterest, is its focus on quality over quantity.
While Pinterest has become overrun with images of poorly decorated homes and DIY crafts gone wrong, Juxtapost features a curated selection of beautiful photography, art, and design. In addition, Juxtapost offers a range of tools that make it easy to find and organize images, including tags, categories, and search functionality.
As a result, Juxtapost is the perfect place to find visual inspiration for your next project or simply to enjoy some eye candy.
Pearltress
Pearltrees is a social bookmarking app similar to Pinterest. It allows users to organize, store, and share websites, photos, articles, and other online resources.
The site's unique visual interface makes it easy to see the relationships between different pieces of content, and its drag-and-drop functionality makes it simple to add new items or rearrange existing ones.
Pearltrees also offers features not available on other social bookmarking sites, such as embedding items from external websites, creating custom RSS feeds, and receiving recommendations based on interests.
In addition, Pearltrees' user base is highly engaged, with users spending an average of 20 minutes daily on the site.
For these reasons, Pearltrees is an excellent alternative to Pinterest for those looking for a more robust social bookmarking experience.
We Heart It
Those looking for a new visual content platform to explore can always check out We Heart It!
Pinterest has long been the go-to platform for finding and sharing visual content, but a new kid on the block is quickly gaining popularity: We Heart It.
So what makes We Heart It worth checking out? The platform has a more youthful and stylish aesthetic than Pinterest.
And while Pinterest is primarily used for DIY projects and home decor inspiration, We Heart It is all about fashion, beauty, and lifestyle content. In other words, it's the perfect place to find some fashion inspo or beauty tips.
But that's not all! We Heart It is also incredibly user-friendly and easy to navigate. Plus, it has some nifty features like collections (which are basically like Pinterest boards) and the ability to follow other users. All in all, there's a lot to love about We Heart It.
Dribbble
Dribbble is like Pinterest, but for designers. If you're looking for someplace to get your daily dose of design inspiration or if you need a specific kind of graphic for your next project, Dribbble is the place to go.
The site is full of beautiful designs and creative people, and getting lost in the sea of talent is easy. But there's one big difference between Dribbble and Pinterest: on Dribbble, you can hire the designers whose work you admire.
So if you see a design you love, you can reach out to the creator and see if they're available for hire. That makes Dribbble so unique and valuable for designers and those who need their services.
So next time you feel stuck creatively or need some design help, be sure to check out Dribbble. You might just find your new favorite designer.
Hometalk
Hometalk is the best platform for home improvement projects, hands down. Here's why: first of all, the community is much more supportive and engaged than on Pinterest.
Second, there are DIY tutorials on Hometalk – unlike Pinterest, where you just get a bunch of random photos without explaining how they did it.
Third, Hometalk has way better filters, so you can find what you're looking for without wading through a million irrelevant results.
Finally, Hometalk is just generally more fun – the tone is more lighthearted and engaging, and there's less of a focus on perfectionism.
Conclusion
Pinterest is a great platform, but it's not the only one out there. The list above includes some of the best Pinterest alternatives worth checking out. So whether you're looking for a more robust social bookmarking experience or just need some fashion or design inspiration, be sure to give one of these platforms a try. You might just find your new favorite! Thanks for reading!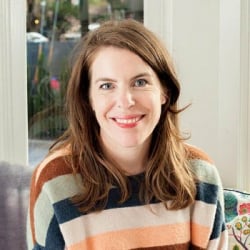 Latest posts by Maddie Schultz
(see all)