Pinterest can be a great resource for marketing your business and driving visitors to your blog or website. However, it can be challenging to get your pins noticed if you don't have a large following.
For most brands, this is a huge concern, and if you don't know how to get your pin seen on Pinterest, this is the place to be!
This article will give you 5 simple tips to get your pins noticed so you can build a successful presence online. We'll also discuss the benefits of having the needed visibility for your brand.
Let's begin!
The Benefits of Getting Noticed on Pinterest
Here are some of the key benefits of getting noticed on Pinterest:
Increase Web Traffic
While it is primarily used to discover new recipes, fashion trends, and home décor ideas, Pinterest can also be an effective tool for driving web traffic. When users "pin" an image from your website, they create a link to your site.
And, because it is a highly visual platform, pins with attractive images are more likely to be repinned by other users, increasing the reach of your content.
In addition, images properly tagged with keywords have higher chances of being found in search results, leading to increased web traffic.
Increased Brand Awareness
Pinterest has quickly become one of the most popular social networking sites, with millions sharing photos and ideas on various topics. For businesses, it can be an excellent way to increase brand awareness and reach new potential customers.
When people pin images from your website or blog, they effectively share your content with their followers.
In addition, Pinterest users are generally quite engaged, meaning they are more likely to take notice of your brand if they see it on their feeds.
With its large and active user base, this platform is undoubtedly a powerful tool for increasing brand awareness and driving traffic to your website.
Better Engagement
When people see your pin, they're more likely to interact with them by commenting, liking, and sharing them with their friends and followers. This increases the reach of your pins and encourages others to follow you.
Connecting With Influencers
As you increase visibility on Pinterest, you can also connect with influential people and companies in your industry, increasing your reach.
Influencers are people with a large following who can help to amplify your message. And when it comes to Pinterest, influencers can be especially powerful. That's because users on Pinterest are already in a discovery mindset, meaning they're more likely to be open to new ideas and products.
If you can connect with an influencer who shares your vision, you could see a big boost in your reach and engagement.
Get More Inbound Links
Pinterest can be a great way for businesses to get more inbound links. When a company pins an image or video to its Pinterest board, it effectively shares that content with all its followers.
If one of those followers sees the quality content and decides to share it on their website or blog, they will include a link back to the original source. As a result, businesses that use Pinterest can get more inbound links from other websites and blogs.
In addition, Pinterest users are generally more engaged than users of other social media platforms, which means that businesses have a better chance of reaching their target audience when they use Pinterest.
Discover What Interests Your Audience
As a business owner or marketing manager, it's vital to understand what interests your target audience. You can spend a lot of time and money developing quality content and products that appeal to your customers, only to discover that they're not interested in what you offer.
This is where Pinterest can be a valuable tool. By monitoring the pins and boards your target audience creates, you can get a good sense of their interests and develop content and products they're interested in.
Additionally, by engaging with your audience on Pinterest, you can build relationships and become a trusted source of information for them. Ultimately, this can lead to increased sales and brand loyalty.
More Conversions
Three-quarters of Pinners say they've discovered new brands and products on Pinterest. And of those people, 98% say they've taken action after seeing a Promoted Pin, whether that's visiting a website, checking out a product, or even making a purchase.
So if you're not already using Pinterest to promote your business, you could be missing out on some serious conversions.
Steps to Get Seen on Pinterest
Here are five steps to getting more eyes on your content:
Dive Into What's Popular
The first step to getting seen on Pinterest is to dive into what's popular or trending. This may seem like a no-brainer, but you must remember that people will only see your pins if they're interested in the topic. To find out what's popular, you can use the Pinterest search bar and look at the top pins for each category.
You can also follow popular users and boards to get an idea of what's trending. Once you know what's popular, you can start creating relevant and engaging content.
Remember to participate in group boards. It's a good way to collaborate with other users, showcase your pins to a larger audience, and get more exposure to your content.
Joining relevant group boards is an easy way to increase your visibility on Pinterest and get more views. Ensure you follow the group's rules and contribute relevant content to their topic.
Provide Original Content
If you want to get noticed on Pinterest, the first step is creating original content. That means creating high-quality, visually appealing pins that offer value to the Pinterest community.
The best way to do this is to share helpful tips, articles, and infographics that will appeal to your target audience. Remember, quality trumps quantity when it comes to creating successful pins.
So focus on creating a few great pins each week rather than trying to churn out a large number of mediocre pins. If you can do this, you'll be well on your way to becoming a Pinterest powerhouse.
Use Relevant Keywords and Hashtags
Pinterest is one of the most effective social media platforms for driving traffic to a website or blog. But to take advantage of its potential, you must know how the site works.
One of the most crucial things to consider is using relevant hashtags and keywords. For example, if you sell hand-crafted jewelry, you might use hashtags like #handmadejewelry or #bespokejewelry.
When users search for topics on Pinterest, the site uses algorithms to surface pins that contain those keywords. As a result, including relevant keywords in your pin descriptions can help you get more views and clicks.
In addition, using hashtags can also help you reach a wider audience. Hashtags are searchable on Pinterest, so using relevant ones can help you get your pins in front of more people.
When used correctly, hashtags and keywords can be powerful tools for driving traffic to your site from Pinterest.
Run Contests on Pinterest
Contests are a great way to engage with your audience, attract new followers, and promote your products or services. But before you go launching one, there are a few things you need to keep in mind:
Make sure your content is relevant to your brand and audience. The last thing you want to do is run a complete off-brand contest irrelevant to your followers.
Make sure you spell out the rules of the contest. This will help to avoid any potential confusion or misunderstandings.
Choose a prize that will appeal to your target market.
Promote your contest through your other marketing channels to ensure maximum exposure.
Analyze Your Target Audience
There is no point in creating pins if the right people are not seeing them. To get the most out of Pinterest, you must analyze your target audience and tailor your content accordingly.
Look at what type of content your followers share, and create pins that match their interests. Don't forget to use analytics tools like Tailwind or Google Analytics to find out what content is performing best for you.
This will help you refine your approach and create pins that appeal to the right audience.
Getting Seen on Pinterest: More Tips for Businesses
In addition to what we've discussed above, here are more tips to help you stand out on Pinterest:
Use High-Quality Images: It's important to use beautiful, eye-catching images relevant to your business. Avoid stock photos and opt for original images that represent your brand.
You'd want to create boards that are focused and organized. That way, users who are interested in your topic can easily find the pins they're looking for.
Also, you have to get your Pinterest SEO game right. You want to include keyword-rich descriptions of your pins. This will help them show up in search results. And don't forget to link back to your website! Including a link with your pins will help drive traffic to your site.
Pin regularly: Consistency is key – you must pin regularly. Aim to pin a few times each day, and be sure to vary the types of content you share (e.g., photos, infographics, videos, etc.).
Conclusion
There it is – a complete guide on how to get your pin seen on Pinterest.
As you can see, there are many different strategies you can use to get your pins noticed on Pinterest.
We hope this article has helped you better understand how to use Pinterest effectively. With the right strategies in place, you'll be on your way to driving more traffic to your site from this popular visual platform.
Good luck!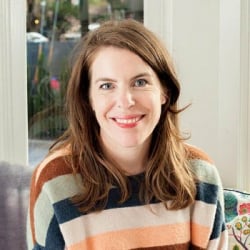 Latest posts by Maddie Schultz
(see all)